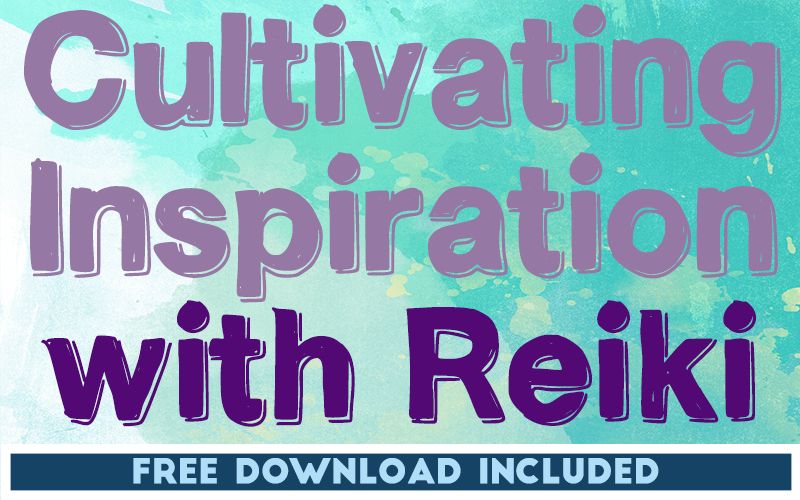 THIS POST INCLUDES:
——————————————–
1. Why inspiration is important
2. What inspires you?
3. Developing Inspiration with Reiki
4. Free Download Creative Flow Meditation
WHY INSPIRATION IS IMPORTANT
​When we think of inspiration, we often think in terms of creativity and artistic pursuits. However, inspiration doesn't belong only to the pursuit of artistic endeavors.
Inspiration can center itself in our lives as a driving force for us to take action in areas of our lives. These areas can include our relationships, our career path, our daily living, and the way we perceive our purpose and value in life.
Inspiration can motivate us to set goals and undertake actions that can change our lives. We can forge new dreams about the direction our lives are taking when we allow inspiration from a variety of sources to enter our lives.
Inspiration can introduce us to new opportunities and possibilities and help alter thinking styles that seek to limit our involvement. Inspiration can motivate us and boost our mood so that we develop a strong sense of belief in our abilities.
In times when our energy is negatively impacted by physical fatigue or emotional distress, inspiration can provide a boost of motivation to help move us through difficult times and experiences.
One of the positive traits of inspiration is that is typically an act of spontaneity without any manufactured effort. However, this can also be a detracting aspect of inspiration, if you are moving through a difficult period in life and moments of spontaneous inspiration are alluding you.
Although inspiration is largely spontaneous, we can also encourage moments of inspiration by participating in activities and experiences that we know have motivated us or inspired us in the past. From this perspective, it is useful to determine what has inspired us in the past so that we can use this knowledge to guide our choices in the future.
Inspiration makes us open to experiences and ways of working towards our goals. Inspiration increases overall wellbeing as it helps us find the necessary energy we need to start acting on our deepest held dreams and ideas. Most importantly, while inspiration sparks new ideas, it often becomes the most important stage in helping us take action on making important changes in our life.
Inspiration does not need to be cultivated through only Reiki protocols. You can also use Reiki in other areas in your life with an overall goal of building upon your levels of motivation and inspiration.
Some areas where we can gain inspiration can include:
Nature – can include both flora and fauna
Movies, music, books
Learning – increasing your knowledge about a topic you already know or learning new things
Other people – people we know or others in the public domain that we don't know
News stories – people persevering despite adversity
Hobbies – art, music, sports, gardening
Social engagement – interacting with others socially
Social activism – engaging in social justice activities
Wellbeing – physical and mental wellbeing activities such as meditation, yoga, therapy, Reiki, self-care
During a personal Reiki session, we can connect with our innermost thoughts and emotions as we sit quietly away from distractions.
To understand what inspires you, use some time in your next Reiki session, to sit quietly and reflect on the moments you have felt inspired to take action at a previous time in your life.
Consider what inspired you at that time. Was it a situation or a person that created this inspiration? Can you cultivate some parts of your prior experiences to create additional inspiration in your life right now? Try to determine 2-5 things that have inspired you in the past that you may be able to use in the future to cultivate inspiration.
DEVELOPING INSPIRATION WITH REIKI
Reiki has a deep connection with cultivating energy as well as clearing blocks that would prevent energy from flowing through us. When we possess a clear flow of energy, we can tap into this resource to help guide us through our daily routines or occasional projects that require an impetus of energy and effort.
Reiki can help us let go of expected outcomes and embrace the imperfect process of working through difficult days. Reiki can help us move beyond the fear that might be limiting us, and help us push through the perception we hold of the obstacles that are in our way. This is not to say obstacles are not real, however, our perception of obstacles as being fixed or changeable can be understood better with deeper exploration.
It's important to remember that as we seek inspiration for ourselves, we can also play a significant part in providing inspiration for others. As a Reiki practitioner, you will see clients in our practice with various degrees of motivation to pursue wellness goals. Through Reiki, you can help your client engage in inspiration-seeking practices through a process of Reiki treatments that will help your client become open to new experiences and opportunities.
Although inspiration is primarily derived from a moment of spontaneity, we can use Reiki to help create the conditions for inspiration to be fostered and responded to when it arrives. We can use Reiki to encourage a welcoming attitude to new things that will inspire us and motivate us to change.
SIGN UP below to download the FREE Creative Flow Meditation Guide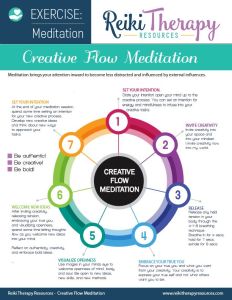 BUILD YOUR REIKI REFERENCE MATERIALS:
Pin this image to your Pinterest board.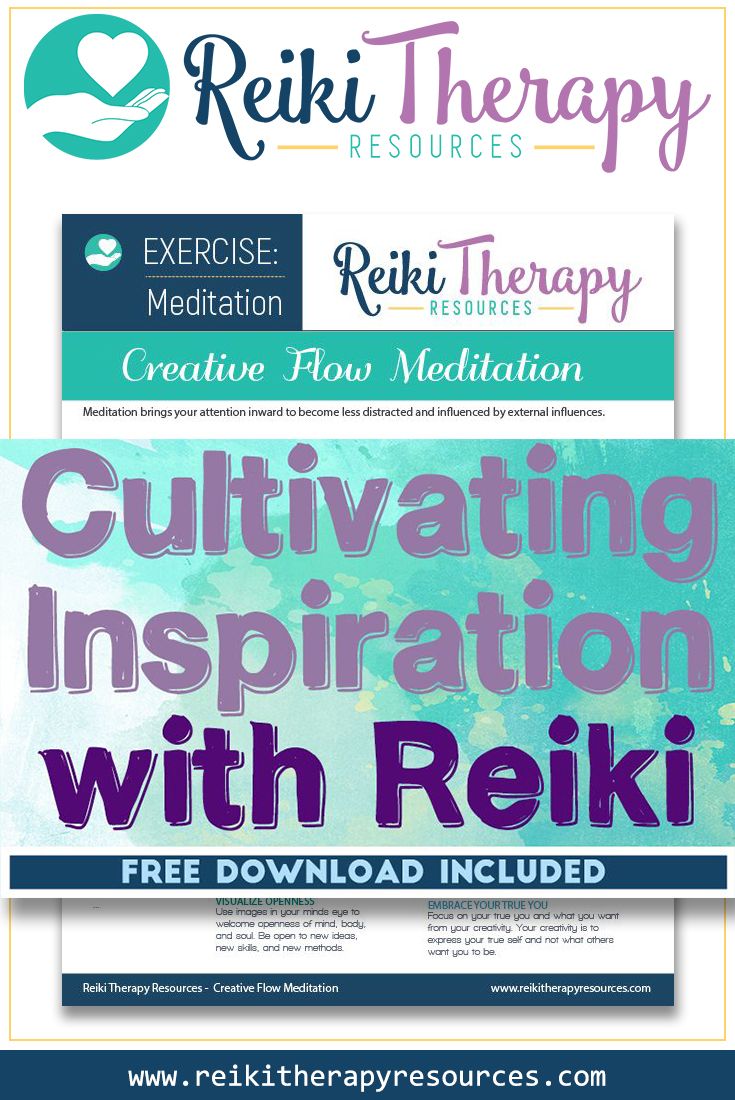 SHARE KNOWLEDGE & PASS IT ON:
If you've enjoyed this post, please share it on Facebook, Twitter, Pinterest. Thank you!