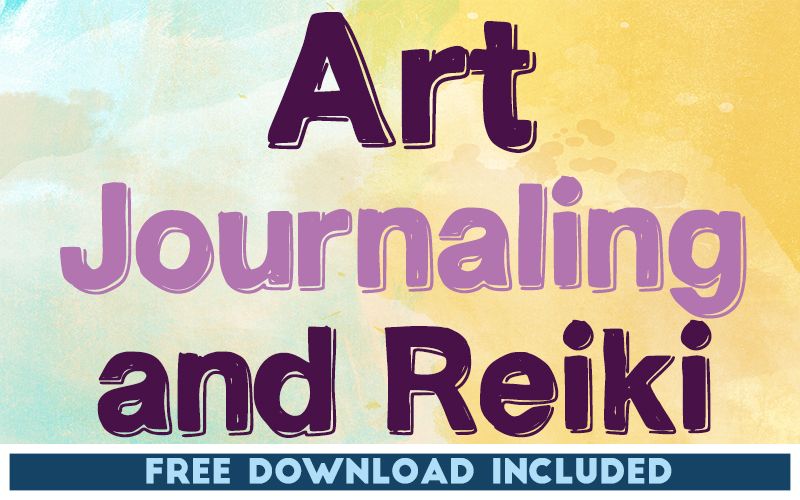 THIS POST INCLUDES:
——————————————–
1. What is art journaling
2. Supplies for art journaling
3. Art journaling and Reiki
4. Free Download 10 Art Journaling Tips
Art Journaling is a visual diary that is created by you and used as a place to record your thoughts and memories through images and words. You can also use it to express your emotions and unload the persistent thoughts that swirl around in your mind.
Art is usually viewed with an outcome of creating a painting or drawing that can be viewed by everyone, however, art journaling is more focused on the process of creating than the end result. Art journaling is also mostly held as a private account of your expression instead of a painting that is observed by anyone else.
Art journaling is a private space for us to develop self-awareness, become inspired, encouraged, and pour out our deepest fears. Aside from an emotional outlet, art journaling can also serve as a creative photo album. We can document memories through writing, include souvenirs and mementos, as well as incorporate photos and drawings.
Our art journals are also a great place to explore art techniques and art styles that are playful and fun. Because an art journal is a scrap pad, our artworks don't have to be perfectly crafted works of art.
ART JOURNAL THEMES
Your art journal can be a free form journal of expression, however, you can also choose to follow a theme in your art journal if you want. Some common themes to use in an art journal include:
Affirmations
Color themed
Inspiring and motivating quotes
Technique based, eg. collage
Music lyrics
Poetry
Sketching
Faces or bodies
Vision board
Doodling
Traveling
Nature based
Dreams
Hobby based, eg, cooking, gardening etc
You can either use an entire journal to follow a theme as mentioned above, or you can choose individual pages to follow a specific theme. Alternatively, just keep your art journal open to whatever idea comes into your mind to create.
SUPPLIES FOR ART JOURNALING
Art journals are primarily a paper-based art book. You can use almost any art supply in your art journal as long as the paper can withhold the medium. Also, as art journals are a book, you will need to factor in the texture and dimension of any supplies that you use. Using dimensional products will add bulk to your journal and possibly damage the pages or spine of your art journal.
Most art journals are fairly robust. There are many art journals you can purchase, however, you can also construct your art journal which allows you some flexibility on how the journal is constructed.
Some of the basic common supplies used in art journaling are below:
Journal (mixed media style journal usually has thicker paper)
Watercolors, paints, inks
Paintbrushes
Pens and pencils
Gesso
Matte medium or adhesive
Magazines, photos, ephemera
Washi tape
Stamps and ink pads
Household items (sponges, bubblewrap, tape)
Art journaling is an art method that extends beyond traditional painting and drawing, therefore, almost any art and craft supply can be used in an art journal.
Art journaling together with Reiki can be beneficial as a personal practice in healing. Reiki is a way to connect on a deeper level with yourself and art journaling can provide an excellent way in which to express that deep connection.
You can art journal in many ways as part of your Reiki practice, including:
Create an art journal page and reflect on the emotions that surface while you undertake a self-care Reiki session
Use Reiki to impart your energy in to your art journal page
Use art journaling to express any held tensions that may result from a day of providing Reiki care to clients
Identify any held tension you may have after art journaling and attend to that area using Reiki
Use an art journal to explore new ideas as you learn more about Reiki
Create an art journal that is focused on the topic of Reiki
Use an art journal to practice learning Reiki symbols
CREATE AN ART JOURNAL PAGE
Below are 10 tips to start your art journal page:
Gather your supplies
Spend some time reflecting on any ideas that might come to mind. You might want to art journal intuitively based on whatever thoughts are appearing. Alternatively, you may want to pick a theme or topic to art journal about.
Color palette – do you want your page to be dark and moody, or bright. Many websites can provide color palette inspiration. https://colorpalettes.net/
Composition – do you want to build a background and add elements on top or do you want to start with a central image and build around it?
Texture and patterns – think about adding texture and patterns to your page to add visual interest
Blank page – if you're stuck on starting with a blank page, grab your favorite color and just scribble a mark or splat some ink on the page to get moving. That initial mark will tell your brain that you've started.
Collage – if you collage items on your page, move the items around to test out composition ideas before you adhere the items to your page. Don't spend too much time overthinking placement. Try a few positions and then just commit. You can use washi tape if you don't want to permanently commit with adhesive.
Add personality – add something personal to your page such as a photo or favorite lyric or poem. Make your art journal page something unique that reflects you.
Embrace imperfection – remember your art journal page is about the process of creating and not the end result.
Set a time limit – set yourself a time limit to complete a page or to work on a page. When the time is up, accept you've done your best and can move on regardless of the outcome you may have envisaged. A great exercise for letting go of outcomes.
SIGN UP below to receive your FREE DOWNLOAD. Once you enter your email address, you will receive access to the Free 10 Art Journaling Tips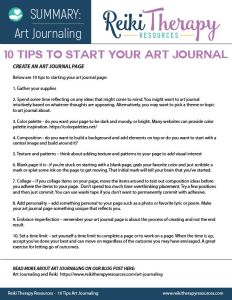 BUILD YOUR REIKI REFERENCE MATERIALS:
Pin this image to your Pinterest board.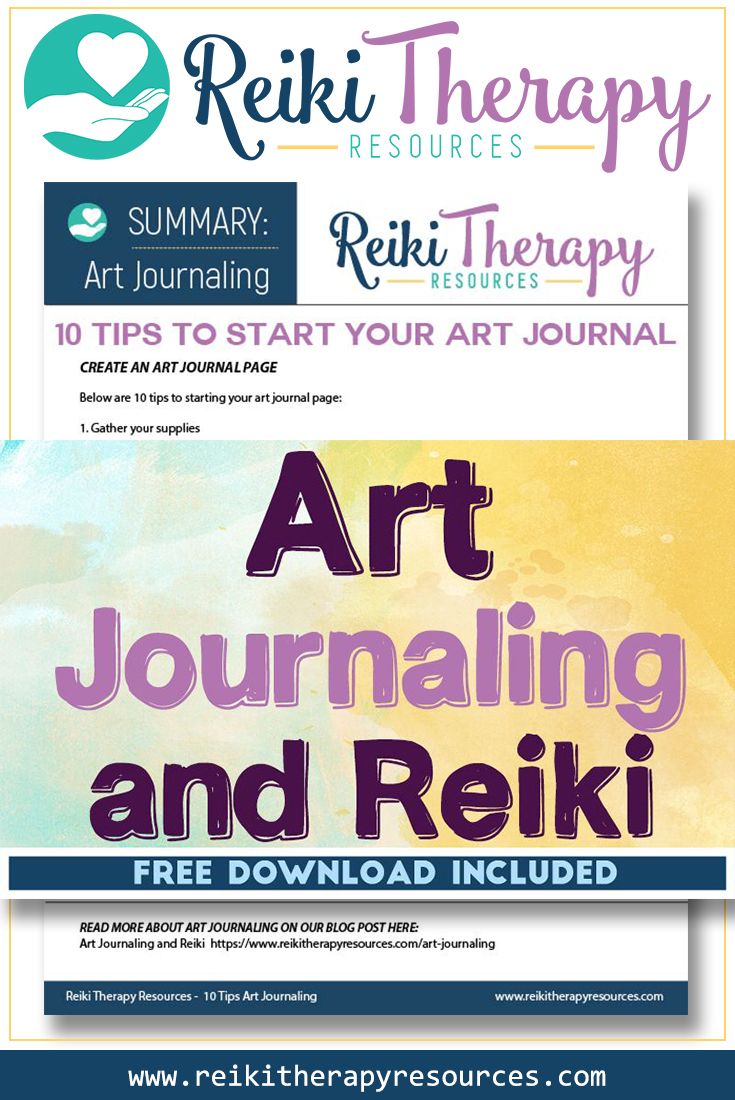 SHARE KNOWLEDGE & PASS IT ON:
If you've enjoyed this post, please share it on Facebook, Twitter, Pinterest. Thank you!