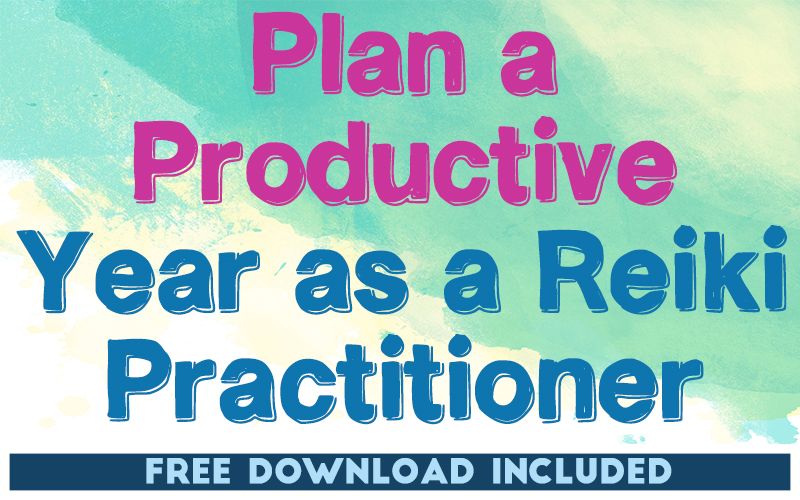 THIS POST INCLUDES:
——————————————–
1. How planning your year can help
2. Choose goals for the year
3. Plan your actions
4. Managing stress
5. FREE Download Planning Template
HOW PLANNING YOUR YEAR CAN HELP
Planning your year may seem like an enormous task. It may also feel like you are trying to predict the future when we all know that many unexpected events and plans can get in the way of good plans.
Unknowns in life do exist, however, there are also significant benefits to making goals and plans to achieve those goals. Additionally, the process of planning can help improve your productivity as a Reiki practitioner and other areas of your life.
Planning your year provides a framework for what you want to achieve in your professional and personal life. When you make plans, you can identify the actionable steps that it takes to achieve your goals.
For example, you may have an overall goal to find more clients for your Reiki practice. This is a broad goal that can be broken down into defined tasks such as:
April – create a referral network
May – create an email list for clients
June – advertise on Google
Planning provides the space to make a consistent commitment to dedicate time to tasks that help build your Reiki practice. Through the planning process, we can develop a better idea of when our goals will be achieved and what resources we may need to gather for each task.
Your strategy to developing a productive year should focus on the following three areas:
Setting goals
Big picture planning – planning your year
Taking action – planning daily actions
Once these areas are identified, you will have a workable strategy for a productive year.
You can also develop some strategies to encourage commitment to your plan including:
Rewarding yourself at various stages of your plan. Your rewards could be financial or non-financial such as spending time on a relaxing activity.
Establishing accountability. Create a plan to be accountable to a friend or others in a support group. There are many Reiki Facebook groups that focus on helping other Reiki practitioners who are creating a private practice.
CHOOSE GOALS FOR THE YEAR
BE SPECIFIC
Goals are best when they are specific. For example, you may want to increase your client workload and subsequent levels of income, however, how can this goal translate into a goal that is actionable, achievable, and measurable.
The key is to be specific with your goal. A specific goal may be to increase your client workload by 1 client per week. This may seem like a small goal, however, it is achievable and measurable. Once you achieve that small goal of one extra client per week, you can then gain the momentum to move on to a new goal which may be a larger increase in client workload.
DEFINE A TIMELINE FOR YOUR GOALS
Research shows that we frequently underestimate the time it will take to complete a task. As your set your plan to achieve your goals, keep in mind that you should realistically allocate time to complete tasks. It's also useful to be flexible with your plans so that you can catch up on tasks if you need to.
If you've undertaken routine tasks before, use your understanding of the time it takes to complete those tasks when developing your goal timeline. If your goal involves tasks you have never done before, use an estimate of the time you want to allocate to that task.
Use your calendar to create your timelines based on the below structure:
Daily
Weekly
Monthly
Yearly
You can also implement a review period to assess whether any goals need to be changed so that you can keep progressing with your overall goals of improving productivity.
Creating a plan for the year can help you create an overall view of how you want the next year to progress in your private practice.
The first step of planning your year should typically stem from prioritizing your goals. If you have many goals, try and filter them down to your top 3 goals and then rank those goals from most important to least important. If you don't have a priority list, it can be easy to become distracted by other parts of your business that take your attention from your main goals.
Once you have prioritized your goals, you can begin to plan daily actions which involve identifying the tasks to achieve your goals and using them to create a list of actionable steps. Establishing your daily actions will provide momentum to move your private practice towards your overall goals.
Just like the yearly plan, your daily plan should contain a list of prioritized actions. At the beginning of each day, ask yourself what is the most important task that you would like to achieve that day. Then you can review your schedule and allocate the time that you need to work on your goal. Your goal does not have to be a large or time consuming goal for the day. The best approach may involve setting a main goal for the week and then allocating a small task to each day so that your overall goal can be achieved.
Goal setting and achievement is mostly done in increments so that you can consistently and steadily work on your plan without burning out and becoming overwhelmed.
An example of planning is below. Your weekly goal may be to increase your social media posts. On a daily basis you can break your task down as follows:
MONDAY – find 5 posts to share from other websites. To be scheduled on Wednesday. Examples below:
1. What is Reiki
2. Benefits of Reiki
TUESDAY – Brainstorm 5 more posts that I can share about my business:
1. Opening hours and location of therapy practice
2. How I help my clients
3. How to book an appointment
WEDNESDAY – schedule posts that you sourced on Monday to post to social media over the next 5 days. Use a social media scheduler so the posts will be made automatically
THURSDAY – draft content for posts you will be posting about your business
FRIDAY – schedule posts created on Thursday to post to social media over the next 5 days. Use a social media scheduler so the posts will be made automatically
Each of the above tasks should only take 5-10 minutes per day. As you gain confidence in doing these tasks, the timeframes will become quicker and you will find that you can do all of the above tasks spread over Monday to Friday in 30 minutes on one single day.
Posts that contain content about your business such as opening hours and how to book an appointment can be reposted on an ongoing basis as that information will always be relevant to your potential clients.
TIME BLOCKING
Time blocking is a work productivity concept where you schedule your tasks into a block of time in your calendar. How you block out your work time can vary based on your schedule and availability. Below are some examples:
Time block an entire day – in a day you clear many small tasks or work on a large project. Eg every Monday you can work on an ebook.
Time block half a day
Time block morning or afternoon
Time block an hour at a time
Time block 30 minutes
Time block 5-10 minutes for mini tasks
The more time you block the more you can set aside time for larger projects. Unfortunately, most of us don't have the time to block an entire day for one project, so the next best approach is to block off smaller increments of time where smaller tasks can be undertaken.
An important part of time blocking is that you block out all other tasks and distractions during that time period. Put your answering machine on, turn off phone notifications, and lock your door. This is the time you will dedicate to your task without any interruptions.
As you plan your time blocking keep in mind your energy levels. It may suit you to only time block for 30 minutes at a time and then take a break from that specific activity. Your time block should also be enough time to facilitate a feeling of flow where you can feel minimal pressure to complete a task in a shortened time frame. If you only have a small amount of time, then choose to do tasks that have less cognitive demands.
POMODORO TECHNIQUE
The Pomodoro Technique is a method of time management based on the premise of working in intervals. For this method, the work intervals are usually between 20-30 minutes long. After you complete one work interval, you schedule a 5 minute break and then continue with another 20-30 minute work session. After 3-4 work sessions, you then take a substantially longer break of say 30-60 minutes.
The Pomodoro technique provides a good structure to stay consistently committed to completing your work. This can help if you are struggling with motivation and procrastination. Setting yourself a 30 minute period of work can help provide your brain with a framework of when it can work and relax. If you are struggling to get motivated, you can tell yourself that after on 30 minute block of work, you can reward yourself with a break.
When goals are initially set, it can be an exciting time and your enthusiasm for change and new things may be a great motivator. However, as the year progresses, your energy can waver and the time you have available can be impacted by unexpected events and stressful situations. Before you know it – life interrupts your best plans!
To help keep you on track in times that are stressful or when your motivation decreases, you can implement some strategies to help keep you going.
Below are some tips to help you stay on track with your goals:
Plan ahead so you can gather all of the resources you need ahead of time
Take time for self-care
Carefully plan your breaks to avoid burnout
Plan for procrastination – be aware of your procrastination patterns so that you can plan around them
Automate tasks where you can so you don't waste time on repetitive tasks
Set up triggers for motivation – stimulate your 5 senses to expand on your energy
Create a productive work environment to stimulate a positive mind
Develop a mindfulness practice to set your focused intentions
Expect that the unexpected can happen and learn how to regroup your thoughts and energy when you need to
OTHER BLOG POSTS TO READ:
We've got an excellent backlog of previous posts to help you stay motivated and productive when planning your year.
SIGN UP below to receive your FREE DOWNLOAD. Once you enter your email address, you will receive access to the Free Planning Template for Your Reiki Practice.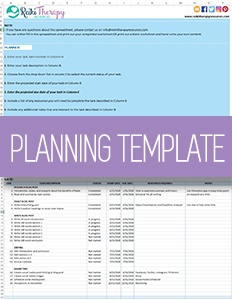 BUILD YOUR REIKI REFERENCE MATERIALS:
Pin this image to your Pinterest board.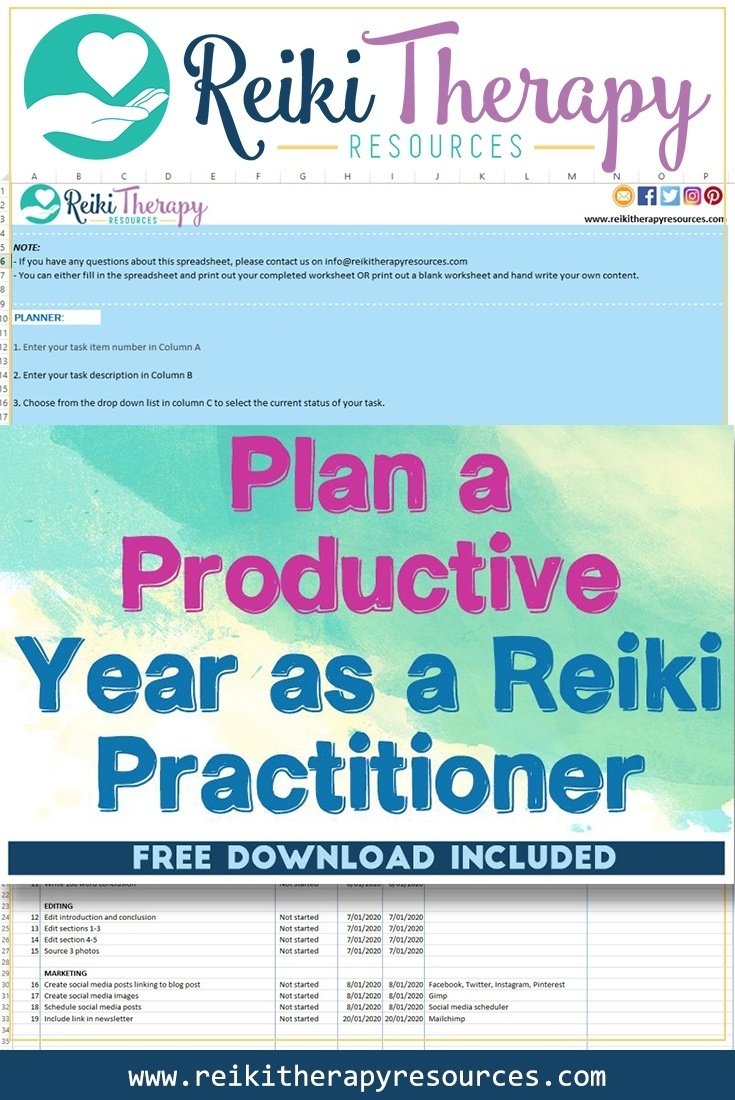 SHARE KNOWLEDGE & PASS IT ON:
If you've enjoyed this post, please share it on Facebook, Twitter, Pinterest. Thank you!