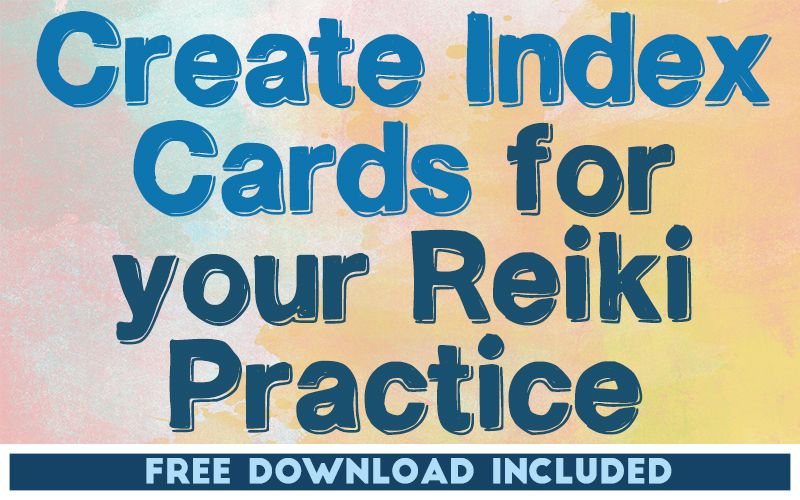 THIS POST INCLUDES:
——————————————–
1. What are index cards
2. Create index cards
3. Printing index cards
4. Free Download Index Card Template
Index cards are an educational and creative tool that you can use in your Reiki therapy practice to help your clients explore further aspects of their personal goals in personal development and improved wellbeing.
Index cards are small paper-based (or digital) cards that your client can use either in a Reiki session or at home. Their small size makes using index cards easy given they fit in your hand.
Index cards can be used as a reference guide for Reiki practitioners in session, however, they can also be sold to create an additional income stream in a Reiki practice.
Index cards can be used to print inspirational quotes or used to provoke introspection to help facilitate personal growth.
Index cards can also be used in a workshop or group session where discussion prompts printed on the index cards can be used as a method for group participants to get to know each other.
Index cards can facilitate spontaneity and curiosity for clients when they select a random card from a pack.
Index cards can also help clients explore their emotional and spiritual development by using metaphors and images on the card.
The content you include on each card will depend on the purpose you have for each card pack. You may want to use your index card pack as a source of inspiration and therefore images and quotes may be suitable. If you want to use your card for motivational prompts, then creating space for more text will be more useful. Your design should always suit the purpose of your cards.
Below are some useful factors to keep in mind when creating your index cards:
Will your cards include mostly text?
Will your cards include graphics?
Will your index cards have a theme? eg self-care, meditation, relaxation etc
Will your cards be interactive and require a space for your client to write a response?
How many cards will be included in your index card pack?
This information can help you to begin outlining the content for your index cards.
Below are a variety of options to think about when designing your index card content:
Front and back cards contain text only
Front card is text based, back card is an image
Front and back of both index cards contain images
Front card contains image, back card contains text only
To create your index card content, you can use various software programs, however, a universal program that most people have access to is Microsoft Word. You can also start with simple plain paper and a pencil.
If you use Microsoft Word, you could start by setting up your document with 3 columns:
Column 1 labels the card number
Column 2 has the content that is included on the front side of your card
Column 3 has the content that is included on the backside of your card
Below is an example of how you can create a Microsoft Word document to create your content outline. This example includes some text information to be printed on the front of the card and a graphic logo image that refers to the name of the Reiki business on the backside of the card.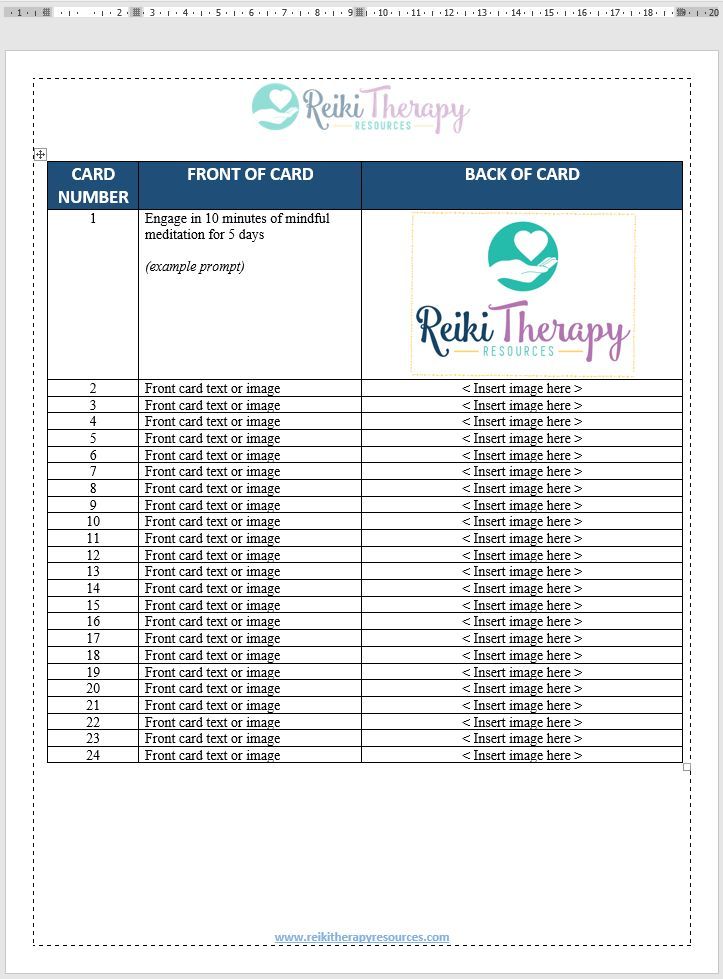 On your cards, you can choose to include whatever is relevant to your goals for using index cards. You may want to include:
Meditation practice suggestions
Affirmations
Educational content, eg. Chakra information
Prompts for writing, eg, gratitude prompts
Your content is only limited by your imagination.
Once you have outlined the content that you want to include on your index cards, you can design your index cards for printing.
You can use images created by other people or images created by yourself. If you are using externally sourced images, be sure to read the copyright information attached to any images that you use. Usually, a reseller will include specific copyright information with details on how you can use images. Freepik is an excellent resource for finding images to use for index cards.
You can read more about using images for your Reiki practice by reading our previous blog post: Image Resources to Use For Your Reiki Blog.
As you are designing your cards, make sure you are aware of the file requirements that the printing company requires to print your cards.
Below are some online resources that provide a card printing service that is useful for index cards:
You can also print your index cards using your color printer. Printing your cards on photo paper or solid cardstock paper will add some extra stability to your cards. Additionally, you can laminate your index cards to keep them protected.
If you only want to print a few packs or want to change your packs regularly, then you may want to consider investing in a color printer to do your own printing. However, if you want to print multiple packs for resale, it would be more suitable to use a professional printing service.
SIGN UP below to receive your FREE DOWNLOAD. Once you enter your email address, you will receive access to the Free Index Card Template.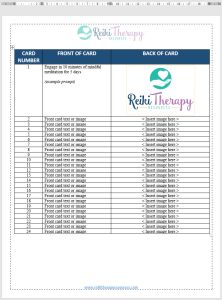 BUILD YOUR REIKI REFERENCE MATERIALS:
Pin this image to your Pinterest board.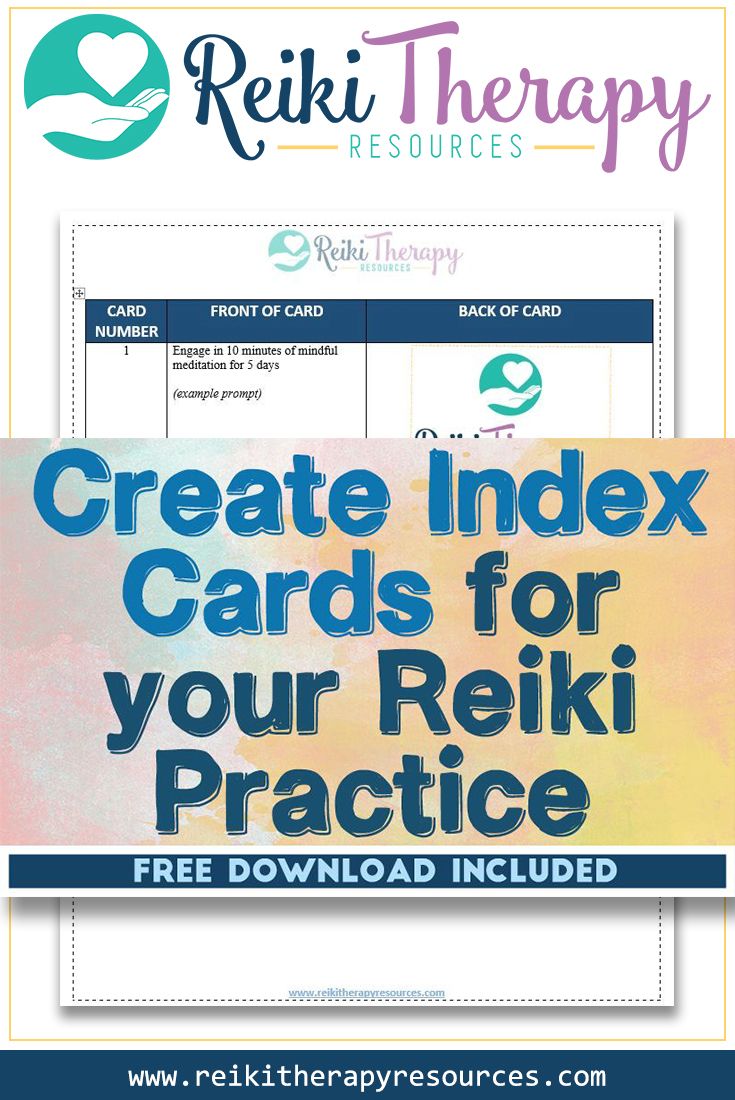 SHARE KNOWLEDGE & PASS IT ON:
If you've enjoyed this post, please share it on Facebook, Twitter, Pinterest. Thank you!