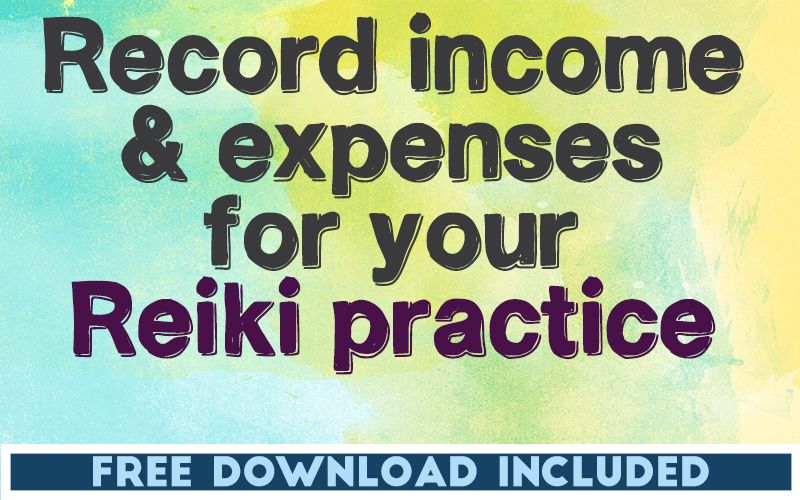 THIS POST INCLUDES:
——————————————–
1. Type of financial information
2. Create a financial system
3. Use your financial information
4. Free Download Expenses Worksheet
TYPE OF FINANCIAL INFORMATION
DISCLAIMER: You should seek advice from your accountant or finance professional when implementing a system to record your financial information. Your accountant will advise you what financial information is required for the specific tax laws in your region.
As a private practice Reiki practitioner, you will discover that financial and administrative tasks are a significant part of your obligations to running a Reiki practice.
Financial information helps you assess the financial health of your Reiki practice as well as determining your tax obligations.
Some of the financial information you will need to record is:
Income
Expenses
Assets
Liabilities
Salary
Retirement
Taxes
Managing your financial information is based on establishing a robust recording system to ensure you accurately capture all relevant information about the operations of your Reiki practice.
Your financial system should interact with external sources such as your accountant, bank and government departments for taxation purposes. This interaction might involve direct uploads or at the least, a method to export and import data.
Financial considerations you will need to explore include:
Insurances
Software for recording income and expenses
Paying a salary
Taxes
Retirement savings
Client payment methods
Business registration
Producing invoices/receipts for clients
Business bank account
EXPENSES:
Below are common expenses you can claim as part of your business operating expenses. The common rule in deciding whether a cost is deductible is to ask yourself if the expense is related to generating your business income. The information that you are required to record may vary based on your tax legislation.
EDUCATION:
Books
CD's/DVD's
Digital downloads (ebooks, audio, video)
Conferences
Education
Professional Magazines or Journals
Online courses
Seminars/Workshops/Webinars
CLIENT SESSIONS:
Therapy equipment
Room equipment
PROFESSIONAL:
Liability Insurance
License Fees
Professional Memberships
MARKETING:
Advertising
Office equipment
Email List Service
Marketing materials
Networking Events
Online Directories
SEO costs
Website design
Social media agency fees
Video/Audio equipment
OFFICE EXPENSES:
Bank fees
Computer, Tablet, Printer, Copier, Fax
Credit Card Processing Fees
Internet
Home Office (pro rata)
Office Furniture
Office Rent
Office Supplies
Phone
Shipping
Software
Subscriptions
Utilities
Website Hosting Fees
SERVICES:
Accounting Fees
Business Coaching
Legal Fees
TRAVEL:
Business travel
Parking
Tolls
Train/Bus Fare
*Note that travel costs are claimable in accordance with the tax laws within your country.
CREATE A FINANCIAL SYSTEM
When establishing a financial system it is important to make your system easy to record and access data that you enter. By operating an easy financial system, you will be more likely to consistently manage your financial data.
The system you create will become part of your policies and procedures that will provide you with a step by step process to record your financial information. This means you can provide your policies and procedures to future staff members to follow as your Reiki practice grows.
Develop your financial recording procedures using checklists to be completed on a regular basis. If you do tasks once a year you may forget how to do them each year. Therefore, it is helpful to record yourself doing the task so you can review the recording each year and complete the task without relying on your memory.
HOW OFTEN TO RECORD YOUR DATA
Some small business owners undertake their business finances one time of the year when tax obligations are due. This can be onerous as you will need to sort through an entire year of data which will is time consuming. This can lead to errors when you have to rely on your memory about specific transactions throughout the year.
The frequency you can record your data are:
Annual
Quarterly
Monthly
Weekly
Daily
The most common timeframe for recording financial information is monthly. A monthly timeframe requires you to record your financial information only 12 times a year. It is a short enough timeframe to give you insight into the current financial position of your Reiki practice so that you can make any changes to your income and expenses.
Weekly and daily financial record keeping may be onerous to a small business owner, however, if you have support from administrative staff you could easily meet a weekly or daily frequency.
The frequency of how you record your financial information is significantly impacted by how easy your recording process is developed. For example, if you have one bank account then you only have one source of financial data to manage.
If you have multiple accounts, a PayPal account, a credit card account, and other various sources of receiving money, this will require managing multiple points of data that need to balance to a central financial position.
Fortunately for technology users, even if you do have multiple accounts, most vendors have integrative processes that enable you to share your financial information across multiple portals. This can help you seamlessly integrate your data.
FINANCIAL RECORDS METHODS:
You can record your financial information using a variety of methods including:
Paper and pen
Spreadsheet
Desktop software (Quickbooks, MYOB etc)
Mobile apps
USE YOUR FINANCIAL INFORMATION
Your financial information is recorded so that you can meet your tax obligations.
Additionally, you can also use your financial information to make informed decisions about your Reiki practice and how it operates.
After reviewing your financial data, you can informed business decisions about your income and expenses to improve your business profit. Regularly reviewing your financial data allows you to make timely decisions so that you can better plan for the financial success of your Reiki practice. This includes preparing for your tax obligations and ensuring that you can adequately cover necessary expenses for your business.
For more blog posts about managing your financial information in your Reiki practice visit the below links:
The effects of a Reiki session can be felt immediately after the session as well as some time after. Each person's response is different. Often, we will look for proof of mental or physical changes in response to Reiki treatment, however, much of our inner is conducted at the subconscious level. We typically use our conscious thoughts to inquire, investigate and rationalize thoughts. In the case of Reiki, much of the healing is done outside of our own conscious efforts and therefore can be difficult for us quantify.
The impact of a Reiki session may be felt in the way you feel about your perception of a situation or event that follows your Reiki session. You may feel more relaxed and calmer and more present with where you are. Your sense may be more heightened with touch, taste, and sight. If you are going through an emotional transition, you may feel liberated from emotional repression. You may feel dehydrated and tired and should hydrate with water soon after your session.
These effects can normally last from hours up to 2 days after your session.
Remain open to the effects of your Reiki session and understand that your body and mind are working in tandem with the energy flow of Reiki.
You can spend some time after your session reflecting on your emotions, thoughts and physical response to the Reiki session. Use this time to write in a journal or record your thoughts somehow. You may want to meditate, create art, go for a gentle walk in nature. Participating in kind and loving self-care for yourself after your Reiki session will help extend the benefits that you receive from Reiki.
SIGN UP below to receive your FREE DOWNLOAD. Once you enter your email address, you will receive access to the Free Expenses Worksheet to record your Reiki Practice financial information.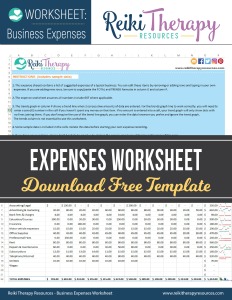 BUILD YOUR REIKI REFERENCE MATERIALS:
Pin this image to your Pinterest board.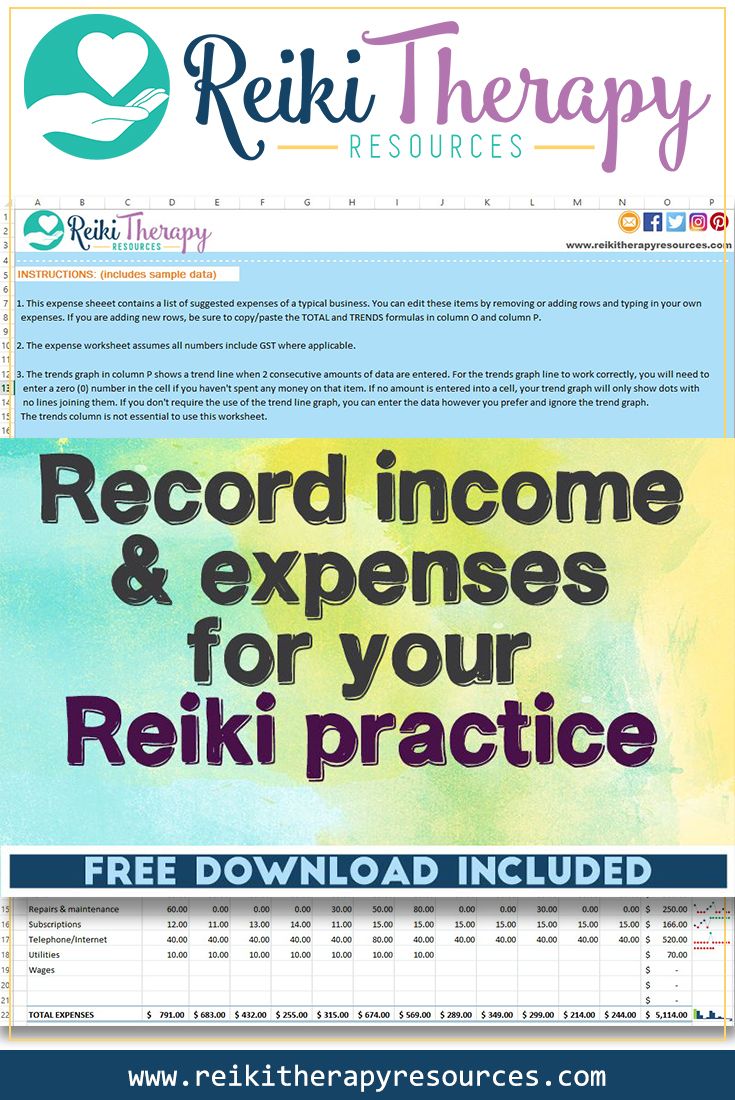 SHARE KNOWLEDGE & PASS IT ON:
If you've enjoyed this post, please share it on Facebook, Twitter, Pinterest. Thank you!