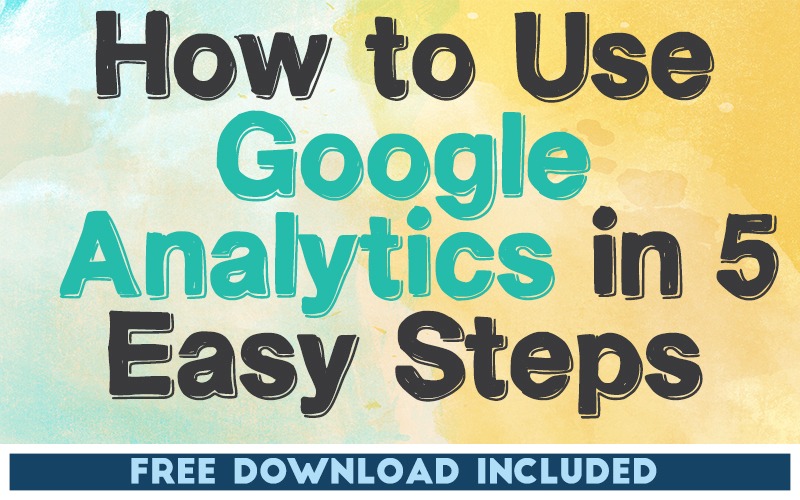 THIS POST INCLUDES:
——————————————–
1. What is Google Analytics
2. Why use Google Analytics
3. Get started with Google Analyticx
4. Tips for using Google Analytics
5. Free Download: SEO Checklist
Once your website is online you should regularly check how your website is performing in terms of viewers and activity on your website. It's important to know how effective your website content and design is in attracting readers to your Reiki website.
Google Analytics is a free tool that you can use to analyze your website based on the activity from your readers when they visit your website. Google Analytics helps you analyze many factors about your website visitors including demographics, location, devices, and how your readers interact with your website. This useful information can help you to develop strategies that will help you optimize your website content to encourage future traffic and engagement on your website.
Google Analytics interacts with other Google products including Adsense and AdWords which can be useful if you are using Google advertising services.
The most important consideration is that Google Analytics is free to use along with many tutorials to help you learn how to effectively use it.
The benefit of Google Analytics is how it collects information and then provides access to that data using a variety of reports. You can information from the reporting system to ascertain what content is most popular on your website and from what external sources readers are learning about your website. This can be helpful to you if you want to create any advertising strategies.
Google Analytics can identify any performance or potential usability issues with your website for both desktop and mobile users that visit your website.
Google Analytics can also help identify the content on your website that attracts the most readers so that you can insight into what your readers find most interesting to read about.
Google Analytics has an initial learning curve, however, once you set up your Google Analytics account, the hardest part is done. You then have to simply check your reports so that you can learn more about how your website is performing. This can be a simple task that you allocated 10 minutes to every week or even once a month. Of course the more time you dedicate to analyzing your data, the more benefits you will receive from using the information you receive to make better marketing decisions in the future.
The most common data that Google Analytics captures includes:
Number of visitors to your website
The type of devices that readers use when accessing your website
What browsers your readers use
The demographics of your readers – age, gender, interests
How your readers found your website
If social media is an effective source of traffic to your website
How effective are your paid advertising campaigns
What are the most common keywords used by visitors to your website
What is the length of time that visitors spend on your website
What are the most popular pages on your website
When do people exit your website
A live view of who is visiting your website
GET STARTED WITH GOOGLE ANALYTICS
STEP ONE – Create an account (Google account and Google Analytics)
The first step to do is create a google account. You can create a Google account using your Reiki therapy practice name. This means you have a dedicated Google account for your Reiki practice and keep your business and personal accounts separate.
After you have created a Google account, you then need to create a Google Analytics account.
The next step is to enter your website details including the name of your website and URL. For example, Reiki Therapy Resources and https://reikitherapyresources.com
STEP TWO – Add the tracking code to your website
In step 2, you will want to access the tracking code provided by Google that helps track traffic to your website. The format of the tracking code is UA-XXXXX-X
You can add this code to your website in a number of different ways. If you have a WordPress website, the easiest way to add the code is to use a free plugin like Google Analytics for WordPress.
Otherwise, you can copy/paste the tracking code into your website pages however, this is a more onerous process than using a plugin.
Instructions to add Google Analytics to a Wix website.
Instructions to add Google Analytics to a Squarespace website.
Instructions to add Google Analytics to a Weebly website.
These instructions from Google will provide step by step details on how to set up your tracking code.
After the tracking code is added to your website, it may take up to 24 hours to start receiving some meaningful data about your website.
STEP THREE – Create a filter
Before you begin analyzing the data that Google provides in its reports, you will want to exclude any visits to your website from yourself. This entails setting up a filter to exclude your IP address.
If you don't know your IP address, you can do a Google search for "what is my IP address?". You should exclude the IP address for every computer that you use. Each IP will need to be added individually in the filter process.
On the bottom left hand side of your Google Analytics panel, select ADMIN > Filter
Then give your filter a name, for example, 'Exclude Me'
Under Filter Type click PREDEFINED
Select Exclude on the drop down
Copy/paste or type your IP address into the IP Address field
Click SAVE
From this point onwards, your reports will exclude your visits to your own website.
STEP FOUR – Create a goal
Google Analytics provides you with a variety of reports that provide insight on the most data that Google recommends focusing on when analyzing the effectiveness of your website.
You can also create your own reports to provide insight into analytical data that you find important. This process involves setting goals for you to monitor.
An example of setting goals is recording how many people sign up to join your email list through your website. This data will provide you with insight into your sign up process and how effective it is in generating new subscribers to your email list. Google Analytics provides you with a broader view of your website traffic and subsequent conversions to your email list.
To access goal setting, click ADMIN > VIEW > GOALS
From this area, you can follow the prompts provided to set up your goals. You can learn more about setting up goals through the Google education program.
Some typical goals include:
email list subscribers
visitors who place an order
visitors who make a booking (for a Reiki session)
There are many options available when setting a goal. Google Analytics provides a variety of pref-filled templates for you to use, or alternatively, you could create your own goals.
STEP FIVE – Reporting
Some useful reports predefined by Google include:
Audience reports – information about the users that visit your website
Acquisition reports – how visitors find your website and how they interact with your website through email, google search, advertisements, and social media
Behaviour reports – how users interact with your website including if they read multiple pages of content or leave your website after their initial visit
Google Analytics reporting can provide you with insight into your most popular content on your website as well as the devices your visitors use, and any external websites that provided links that brought visitors to your website.
As you use Google Analytics, you will begin to define the most useful reports to you with regard to understanding the effectiveness of your website. Through Google Analytics you are able to create your own Dashboard where you can create the reports that you want to view on a regular basis.
TIPS FOR USING GOOGLE ANALYTICS
To learn more about using Google Analytics, check out this Google Analytics for Beginners Guide 
FROM THE WEBSITE: Google Analytics for Beginners shows new users how to create an account, implement tracking code, and set up data filters. You'll learn how to navigate the Google Analytics interface and reports, and set up dashboards and shortcuts.
The course will also demonstrate how to analyze basic Audience, Acquisition, and Behavior reports, and set up goals and campaign tracking.
Unit 1: Introducing Google Analytics
Lesson 1: Why digital analytics?
Lesson 2: How Google Analytics works
Lesson 3: Google Analytics setup
Lesson 4: How to set up views with filters
Unit 2: The Google Analytics layout
Lesson 1: Navigating Google Analytics
Lesson 2: Understanding overview reports
Lesson 3: Understanding full reports
Lesson 4: How to share reports
Lesson 5: How to set up dashboards and shortcuts
Unit 3: Basic Reporting
Lesson 1: Audience reports
Lesson 2: Acquisition reports
Lesson 3: Behavior reports
Unit 4: Basic Campaign and Conversion Tracking
Lesson 1: How to measure Custom Campaigns
Lesson 2: Tracking campaigns with the URL Builder
Lesson 3: Use Goals to measure business objectives
Lesson 4: How to measure Google Ads campaigns
Lesson 5: Course review and next steps
SIGN UP below to receive your FREE DOWNLOAD. 
Once you enter your email address, you will receive access to the Free SEO Checklist to help improve your website ranking so that new visitors will find your website.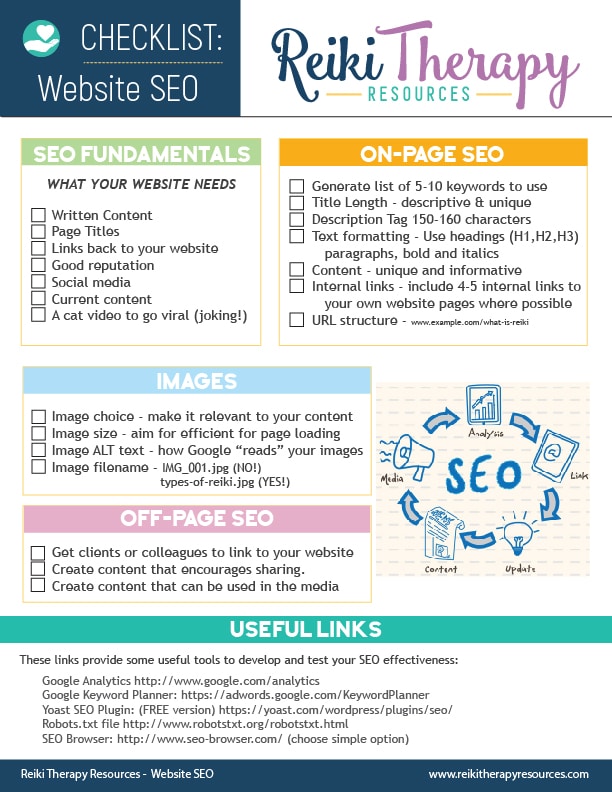 BUILD YOUR REIKI REFERENCE MATERIALS:
Pin this image to your Pinterest board.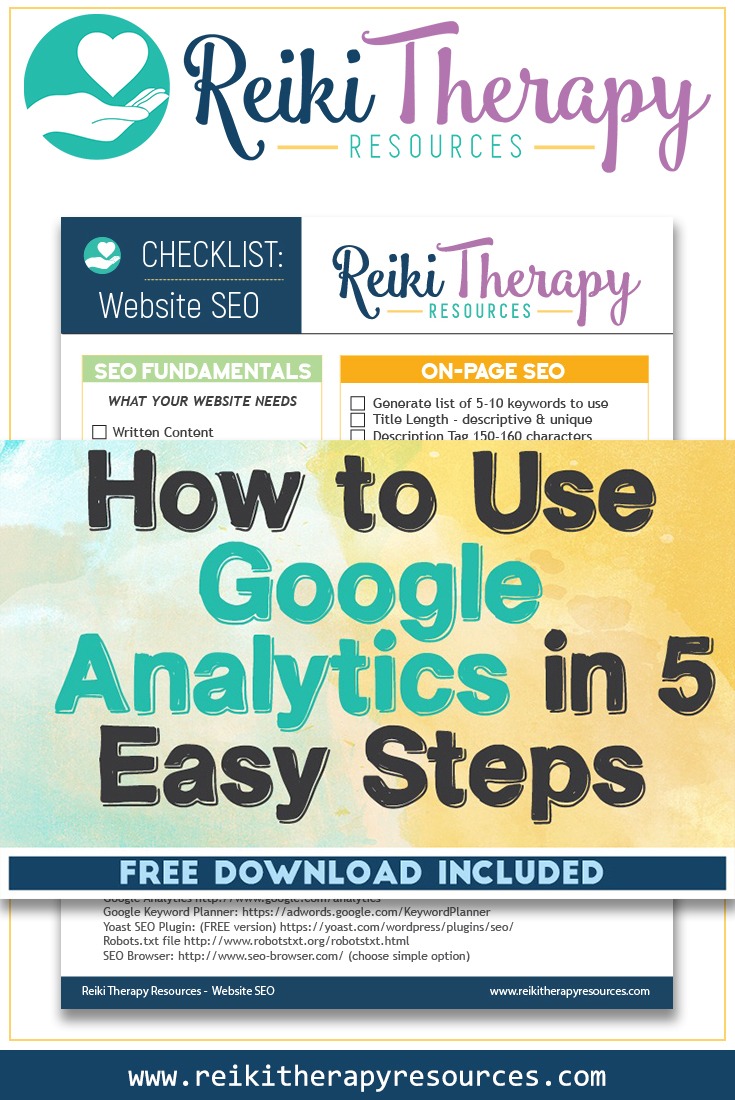 SHARE KNOWLEDGE & PASS IT ON:
If you've enjoyed this post, please share it on Facebook, Twitter, Pinterest. Thank you!