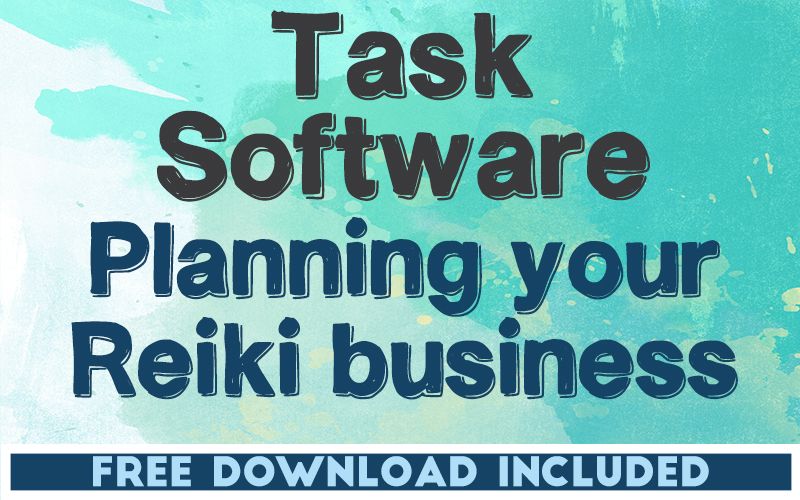 THIS POST INCLUDES:
——————————————–
1. What is Task Management Software
2. Types of Task Management Software
3. FREE Download Planning Template
WHAT IS TASK MANAGEMENT SOFTWARE
As a Reiki practitioner in your own private practice, you will need to manage various parts of your practice. These areas include business administration, business marketing, client management, and your professional development as a Reiki practitioner.
Managing all of these different parts of your private practice requires managing your time efficiently and effectively. If your tasks aren't managed effectively, you may find yourself making decisions impulsively as you juggle the demands of your various roles in your practice.
Using task management software can allow you to manage your time and make informed decisions about the ways you can manage your time and organise the resources you need to run your Reiki practice.
TYPES OF TASK MANAGEMENT SOFTWARE
There is a variety of task management software options available across different platforms including standalone or cloud-based software. There are also many options available based on the device you use, whether it be PC, MAC or mobile devices.
Good task management software will provide you with the ability to access your task data across a variety of devices so that you can create, record, and manage your tasks wherever you are on any device that you own.
Task management software varies in complexity based on the complexity of the tasks that you want to manage. A simple form of task management software is a digital notepad on your computer or mobile device. Beyond this level would be a to-do list application, then a simple task application, and then a complex task manager application.
Your choice of task management software should suit the tasks you need to manage so that your time is spent on actively completely tasks and not managing your software.
The task management software should have the following basic features:
Capture new tasks
Provide a list of things to do
Summarize the current status of your tasks
Below are a few different options of task management software:
DIGITAL NOTEPAD
These programs let you capture your tasks, however, they don't contain features that assist in sorting or prioritizing. These software types are not as portable across multiple devices and require that you manually save and send copies to other devices as they possess limited capacity to sync data in real time.
Examples include:
TO-DO LIST
These apps are more automated in capturing and organizing data so you can easily access your data to manage your task list at any time.
To-do list apps have more features then digital notepads. To-do list apps are suited to lists that you can use as a checklist or regular routine of tasks. The downside is they lack features that help manage larger projects with more complexity.
Examples of this software include:
COMPLEX TASK MANAGER
Complex task managers have extra features that help you group tasks into projects. You can organize your tasks more efficiently using due dates and progress reporting.
Complex task managers also allow you to collaborate with other users and assign tasks to other people that may be involved in the project. Complex task managers can also include features that enable to you to correspond with other users as well as share documents.
Examples of this software include:
Most complex task managers are free and provide an option to pay for additional features.
SIGN UP below to receive your FREE DOWNLOAD. Once you enter your email address, you will receive access to the Free Planning Template available in Excel format.
The template includes instructions, a blank worksheet, and a sample template completed.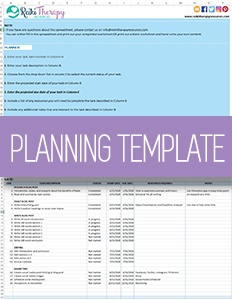 BUILD YOUR REIKI REFERENCE MATERIALS:
Pin this image to your Pinterest board.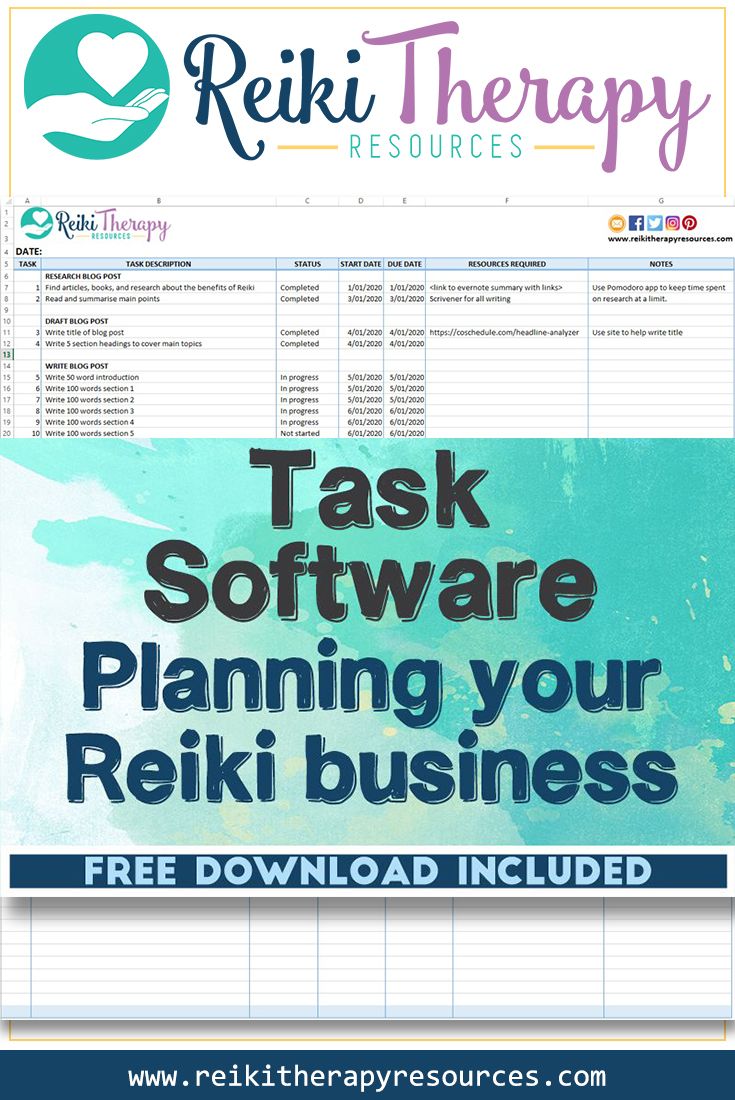 SHARE KNOWLEDGE & PASS IT ON:
If you've enjoyed this post, please share it on Facebook, Twitter, Pinterest. Thank you!