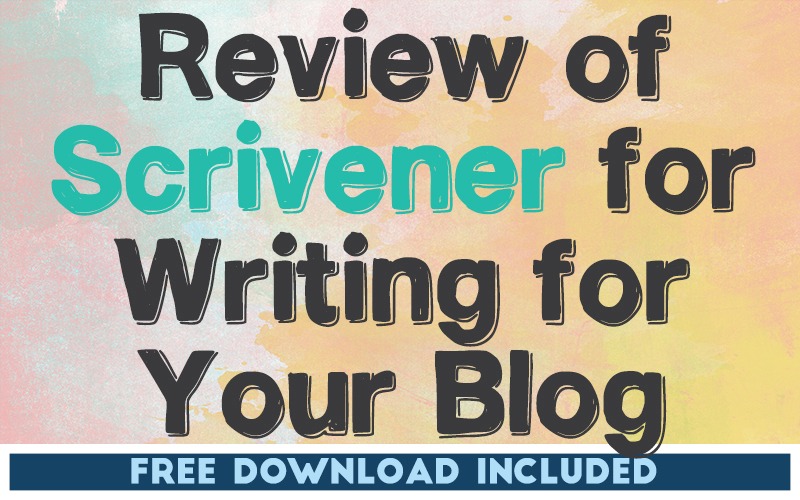 THIS POST INCLUDES:
——————————————–
1. What is Scrivener
2. Using Scrivener for Blogging
3. Using Scrivener for Ecourses
4. Using Scrivener for Ebooks
5. Scrivener Products and Templates
6. Free Download Blog Post Template
Scrivener is a software program that is used to create and managed written content. Scrivener is similar to Microsoft Word in the process of creating written content, however, it provides a more in-depth content management system for all of your writing.
To use Microsoft Word, you typically create one master document where the pages flow after each other. This means your content is created and written in a sequence that generally focuses on one primary topic. Each time you want to write about another topic or work on a new writing project, you have to create a separate Word document. As you create new documents for each project, you then have to manage multiple separate files on your computer and remember the content that you created in each file.
When you create writing content in Scrivener, all of your content and projects remain stored within one master file. Your Scrivener master file works similarly to a filing cabinet where you can create folders and subfolders which enables you to keep writing projects separate from each other, however, you can easily access each project because they are all contained within the one master file that you have open.
This means you only need to manage one file which makes it easier to back up or transfer your file between computers.
Below is a snapshot of a Scrivener project based on the Admin Package we have available in the store. On the left-hand side of the image, you can see the structure of the entire file. Each name on the left-hand side represents a separate writing file that you can click in to and access your content.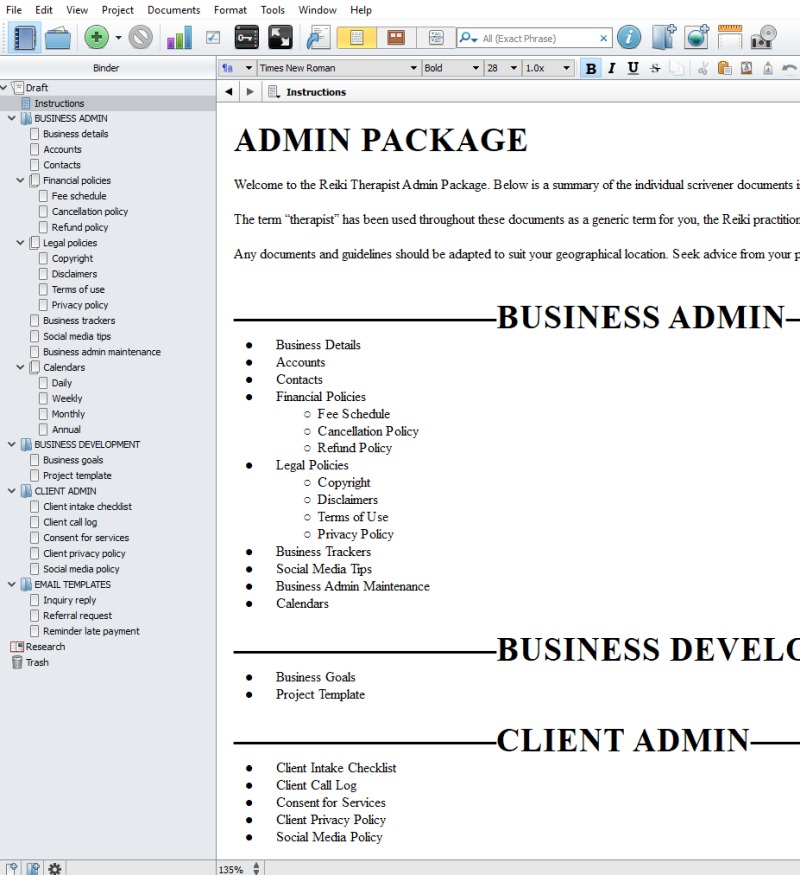 By having all your writing content in one file you can easily switch between tasks without having to regularly open individual documents. This means you can also easily search for previously written content without having to access separate documents.
Scrivener has a number of features that allows you to label your writing content so that you can easily identify content that is being researched, written, edited and completed.
Some of the projects that Scrivener has been used for include:
Non-fiction book
Fiction book
Ebooks
Screenplay
Thesis
Research project
Course planning
Blogging
Once your content is written, Scrivener provides the ability to publish your content into external files including ebooks, pdfs and html. This means you can easily share content with other users who do not use Scrivener.
If you want to learn more about Scrivener and it's powerful features, you can take this FREE course on Udemy (no affiliation with this course): Get Started With Scrivener – Includes FREE 52 Page Ebook.
While you're working through the free course, you can also download a trial version of Scrivener for 30 days. You can access the trial version download here.
There are a lot of free Scrivener templates available on the internet that you can download. Any template can easily be customised to suit your preferences.
USING SCRIVENER FOR BLOGGING
The organizational abilities of Scrivener are one of it's strongest features for creating blog content. Along with creating written content, Scrivener also enables you to import images and graphics so that you can outline your blog posts as they would appear on your website.
An important part of writing blog content is developing an editorial calendar to help you plan and manage your blog content. Scrivener provides you with the ability to create tables so that you can create calendars to plan your blog content.
You can create your table using a standard format of rows and columns and include additional formatting to stylize the look of your calendar. Below are a few screenshots of the calendars that are included in the Reiki Practice Admin Package for Scrivener that we have available in the store.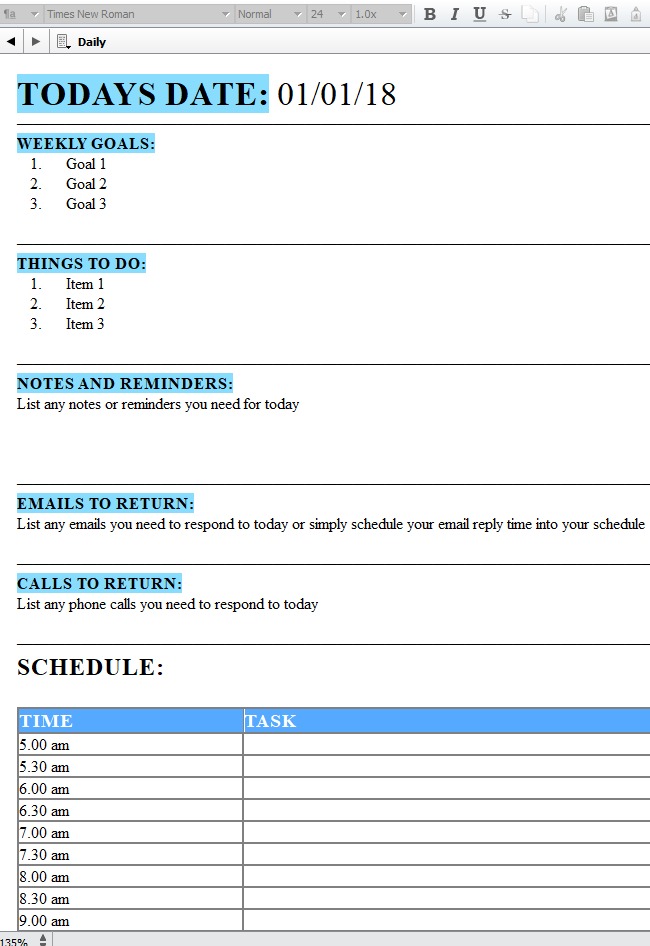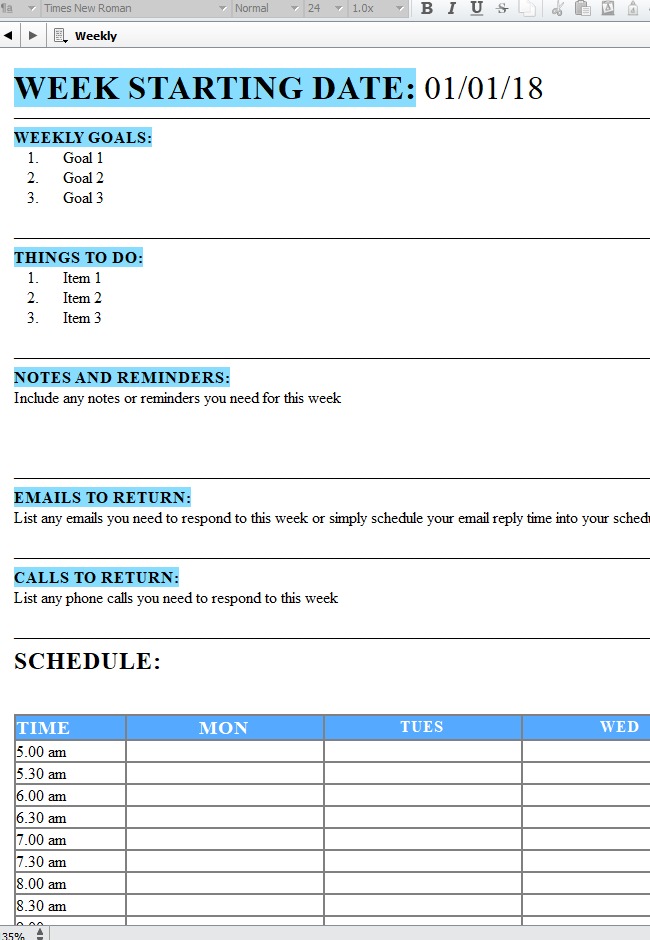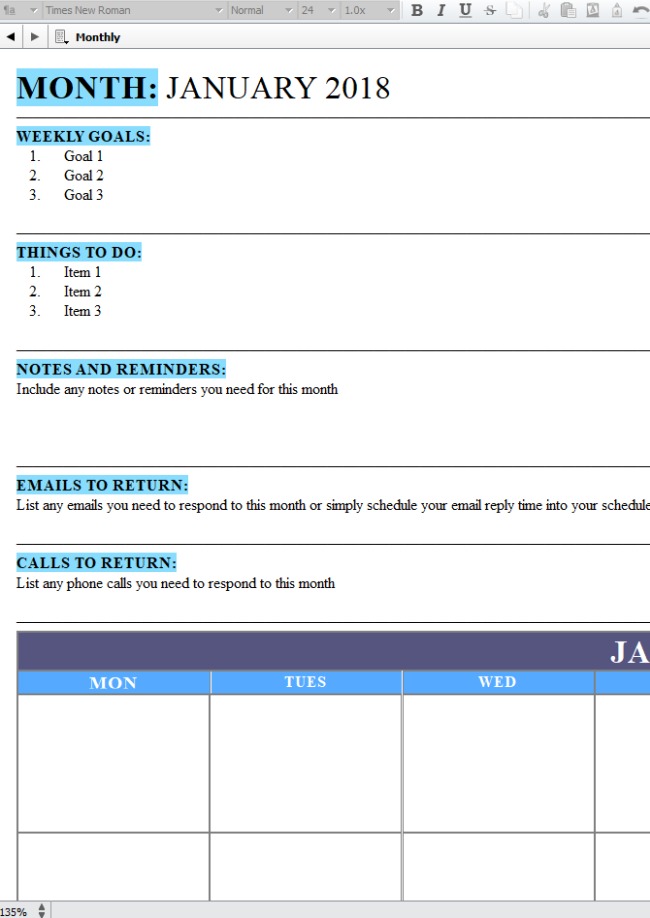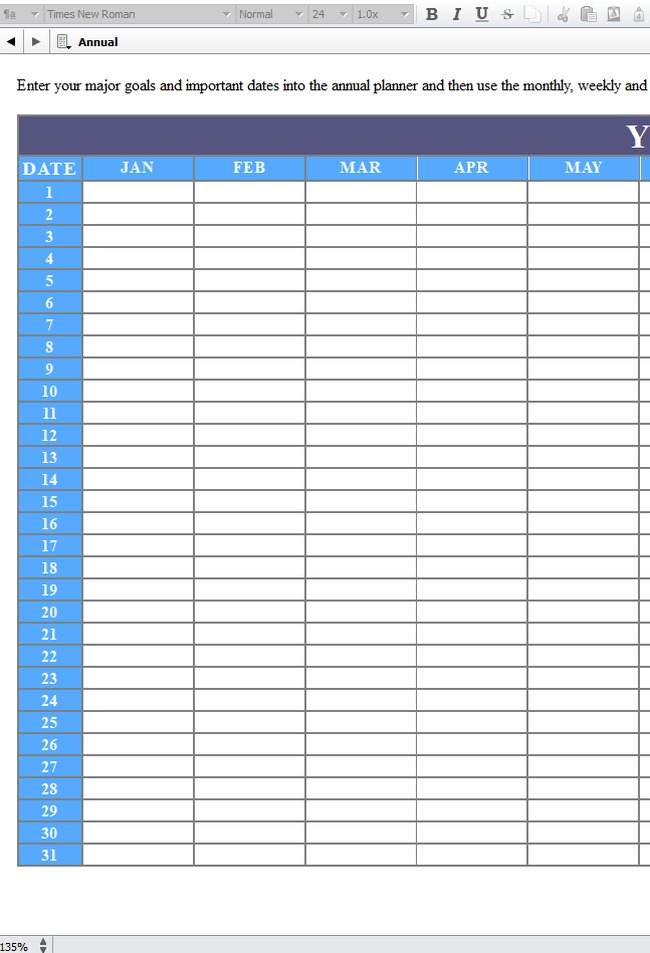 You can format your calendar using the colours and style of your preference and update it as each year progresses. Scrivener incorporates a useful label feature so you can visually categorize your blogging content.
Scrivener includes the primary editing features of spell check, thesaurus and word count so that you can professionally edit your written content as well as set writing goals to achieve.
You can create your blog content using a variety of organizational structures. For example, you can organise your content by calendar date with a folder and subfolders for each year and month. You could also choose to organize your blog content by theme and organise your folders and subfolders according to specific topics that relate to your Reiki practice.
Scrivener includes a status system that enables you to mark content as To Do, First Draft, Revised Draft, Final Draft, Done, In Progress and Outline so that you can keep track of the stage of your blog content. You can also incorporate your own status labels to make the system more meaningful to you.
Included at the end of this post is a FREE BLOGGING TEMPLATE as pictured below: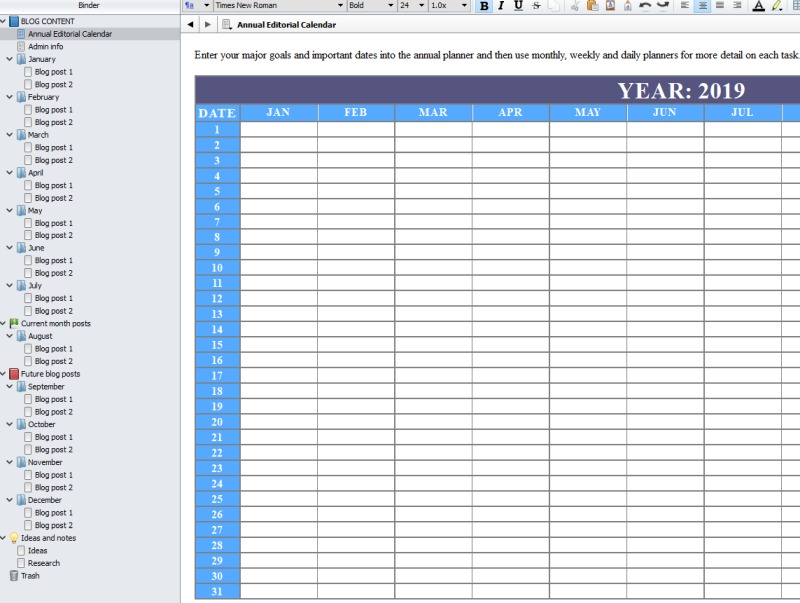 The template contains a list of blank notes and folders for you to use as your blog content structure for the year.
USING SCRIVENER FOR ECOURSES
Scrivener is an excellent tool for creating content used for workshops and ecourses. The organizational strengths of Scrivener allow you to easily create and manage the multiple layers of content that you will use in your workshop or ecourse.
Scrivener enables you to develop a strong organizational foundation for your ecourse that provides you with the scope to brainstorm, create and organize your course content all in one Scrivener project file.
We've created a Course Planner Package using Scrivener that you can use to create your own workshop or ecourse. The package contains quick and practical advice on creating your ecourse, as well as useful worksheets and templates that can easily be implemented to help design and create your course content.
If you've considered creating a course before but it seemed too much work for an unexpected outcome, then this package will provide you with many templates and checklists that will help reduce the amount of time it takes to create your course.
This course planner package will provide you with a roadmap on how to complete your course from brainstorming your course topic, through to creating your course content and then launching your course online or in person.
After working through this package you will:
Have a step by step project plan to create your next course
Centralize all of your course assets to enable easy updating
Select tech gear to create your course and 3rd party platforms to host your course
Create an effective customer sales funnel to sell your course
Construct your sales emails using the included email templates
Decide on your course topic, course format and course delivery method
Create your course using the modules template provided
Create the marketing assets you will need to market your course
Create a blogging strategy to market your course
Use the 30 day planner to complete your course
The Course Planner Package is a Scrivener template that is imported into your Scrivener Project. All sections are arranged within the Scrivener structure of folders and text documents.
USING SCRIVENER FOR EBOOKS
Scrivener was originally created for authors of books and contains a number of useful features that makes it easy to create an ebook.
You can start your ebook using one of the predefined templates provided in the software, or you can choose to create your own templates and use your template each time you create a new writing project.
The organizational features of Scrivener help guide you through the important steps of creating your ebook such as:
Brainstorming
Research
Book outline
Book content
Appendix content
Scrivener has a Corkboard feature that helps you plan your ebook content. Within the corkboard section, you can drag and drop index cards within your ebook that you have used to create your book structure.
Scrivener has the ability to add document notes which enables you to make notes in areas that require further research.
Once your ebook is created in Scrivener, the editing process provides you with the ability to move content within your project and it's individual sections so that you can finalize your ebook structure and content flow.
Once your ebook is completed, Scrivener has a compilation feature which will provide you with the ability to export your book based on standard ebook formats. You can also easily generate a table of contents with HTML links so your reader can easily navigate through your content.
Scrivener has all of the common editing features of spell check, thesaurus, headlines, bold, italics etc so that your ebook will be professionally created.
SCRIVENER PRODUCTS AND TEMPLATES
You can purchase Scrivener here.
Scrivener is available in Windows, Mac and iOs formats.
We have a number of products in the store that have been developed to use with Scrivener, including:
Each product is created as a template that you import into your Scrivener program. All of the organizational structure is provided for you along with prewritten content and prompts.
You can view more details about the content included in each package by clicking the links above. Images are also included to show you the content provided in each package.
REIKI PRACTICE ADMIN PACKAGE


BLOGGING PACKAGE
COURSE PLANNER PACKAGE
SIGN UP below to receive your FREE DOWNLOAD. Once you enter your email address, you will receive access to the FREE Scrivener Annual Template for Blogging file.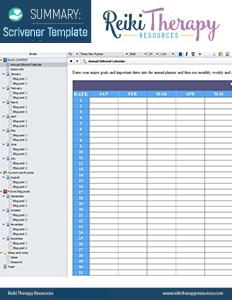 BUILD YOUR REIKI REFERENCE MATERIALS:
Pin this image to your Pinterest board.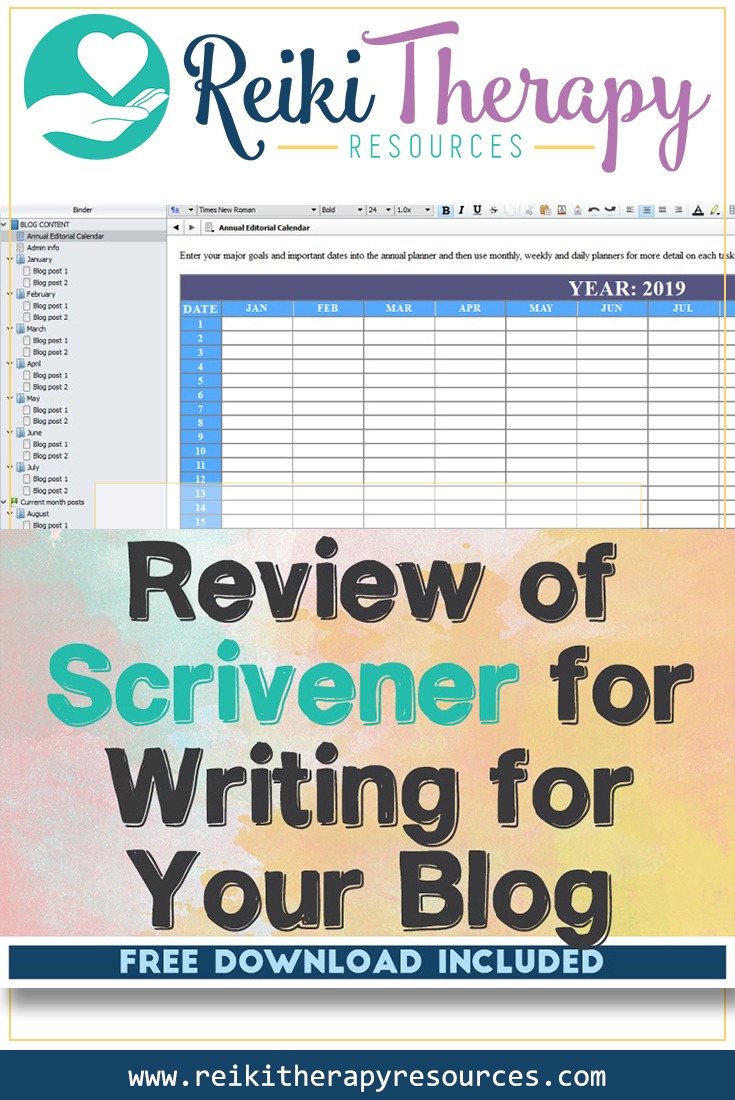 SHARE KNOWLEDGE & PASS IT ON:
If you've enjoyed this post, please share it on Facebook, Twitter, Pinterest. Thank you!