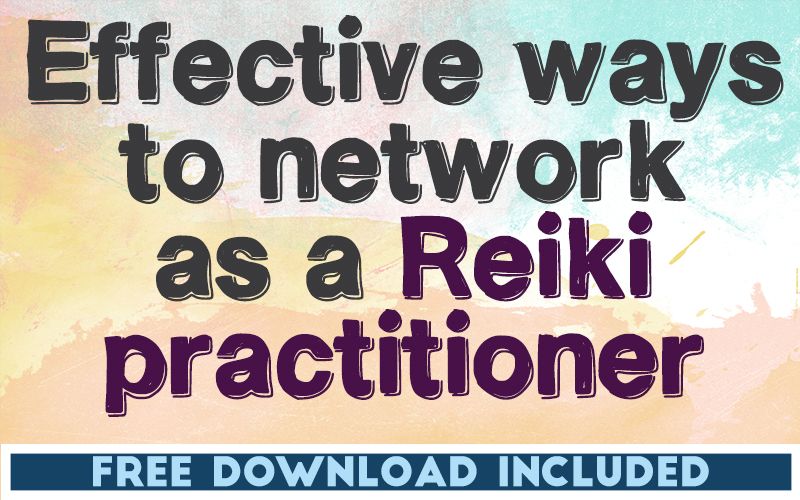 THIS POST INCLUDES:
——————————————–
1. Developing a professional network
2. Building your professional network
3. Connecting with your professional network
4. FREE DOWNLOAD Reiki Business Checklist
DEVELOPING A PROFESSIONAL NETWORK
As part of your role as a Reiki practitioner working in the wellness industry to help clients, you can benefit you and your clients from developing your professional skills and promoting your services and products.
To help do these things, it is helpful to establish a professional network in your Reiki practice. A professional network delivers a number of important benefits, including:
Professional development and advice
General wellness and health education
Ethical issues
Client management
Collaboration
Mentorship/Mentee
Community service
BUILDING YOUR PROFESSIONAL NETWORK
Each person in your network will impact different parts of your Reiki practice. To make the process of networking easier, you can develop a suite of letters, templates, documents and marketing materials that will enable you to easily connect and work with other professionals.
YOUR FIRST STEPS
Develop your "elevator pitch' telling people what you do (see below)
Create an introductory letter/email template
Create a brochure
Create a business card
Create a single page on your website that contains information that is helpful to people within professional networks. You can either make the page public on your website or keep the page private and send a link to the page at your discretion. You can include this link in your introductory letter/email.
Send your introductory letter/email as well as a number of brochures and business cards with the expectation these may be handed out to potential clients.
Follow up in a month to reaffirm your interesting in maintaining contact. You may also want to include additional brochures and business cards. If you are unsure whether it is warranted to include additional material, you could include a note that you are happy to provide additional marketing material if required.
CREATING YOUR ELEVATOR PITCH
An elevator pitch refers to a short statement that you can make to someone as you ride an elevator between floors. Your elevator pitch should address what you do and the benefits you offer potential clients within 30-60 seconds. 
Creating an elevator pitch is useful in both offline and online settings. It helps synthesize the specialized services that you offer in your Reiki practice and the ideal client that can benefit from your services.
When creating your elevator speech, remember to:
Keep it short.
Keep it focused on your niche skills.
Keep it focused on on your ideal client.
Keep it focused on benefits.
WHO TO CONNECT WITH
As a Reiki practitioner, your peers are working within the wellness industry. This typically refers to both physical and mental wellbeing. Therefore your contacts could come from either of those two sources of physical and mental wellbeing.
Some suggestions for your contact list include other Allied Health such as:
Physiotherapist
Doulas
Occupational Therapist
Social Workers
Speech pathologists
You could also expand this list to include professionals from complementary/alternative health services such as:
Acupuncture
Naturopathy
Reiki
Yoga
Massage
Kinesiology
And other Reiki peers
….so many more….
To extend your network even further you could also make contact with other services including:
Childcare
Hairdressers
Beauty salon
Weight loss centre
Connecting with these businesses can expose your business to clients who may be experiencing issues that you currently help clients with.
Look for organizations who work with your ideal client but don't have a full range of services on offer. Non-for-profit and smaller organizations often work with limited budgets and are keen to find resources to help their clients.
​
CONNECTING WITH YOUR PROFESSIONAL NETWORK
Establishing a networking requires an initial effort to first establish your list and then some less regular contact once your initial contact has been made. Establishing a network can take persistence in introducing your business to other professional services. It is helpful to remain in contact, but not be intrusive on other people's time.
Initially, you could create a list of at least 10 existing referral sources or potential referral sources. Over time this list could expand to up to 50 contacts. When you are creating your list, take note of their contact details, including social media.
The networking process can sometimes feel slow and ineffective in the initial stages where you may feel you are the person making a lot of contact and possibly receiving no response. Remember that persistence and consistency is the most important aspect of marketing your business. This has to be balanced with being respectful of the other person or business.
If you struggle to maintain an interest in networking, build the process into a part of your business administrative tasks. You can do this by setting yourself a goal number of contacts to meet, eg. 5 contacts in 3 months.
Use the process of batching and automating tasks to remain in contact with other professional services. This could be scheduling one day per month to contact someone in your network. You could also automate your emails to your network list.
Email is the cheapest and easiest method of contact, however, you can also use other methods such as phone calls, handwritten notes/cards, or meeting in person for coffee/tea.
Other methods of staying in contact include attending conferences, education events and community events. The main ways to stay connected online are through forums, LinkedIn and Facebook Pages/Groups. Online methods are best for networking within your own field of contacts, whereas networking with external companies and businesses is primarily done through direct contact.
Your professional network should be a 2-way connection. Finding connections to help establish your practice and grow your client base is important, however, developing your network across many different avenues will also help you develop a broader range of skills outside of delivering Reiki treatment, such as public speaking or contributing to projects that facilitate community wellbeing.
In addition to developing your own skills, you could become a mentor and source of referrals to other Reiki therapists.
Need help with creating your email and letter template?
If you need additional help to create your letter or email templates to establish your network connection, we have an Admin Package in the store which contains a Referral Request template
This template will help you communicate professionally with other professional services. The Admin Package is available in 3 formats, including Evernote, Scrivener, and Microsoft Word.
You can read more about the packages in our store HERE.
SIGN UP below to receive your FREE DOWNLOAD. 
Once you enter your email address, you will receive access to the Free Business Checklist to help you work through the important parts of setting up your Reiki practice.​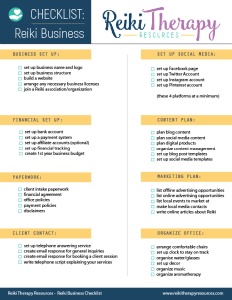 BUILD YOUR REIKI REFERENCE MATERIALS:
Pin this image to your Pinterest board.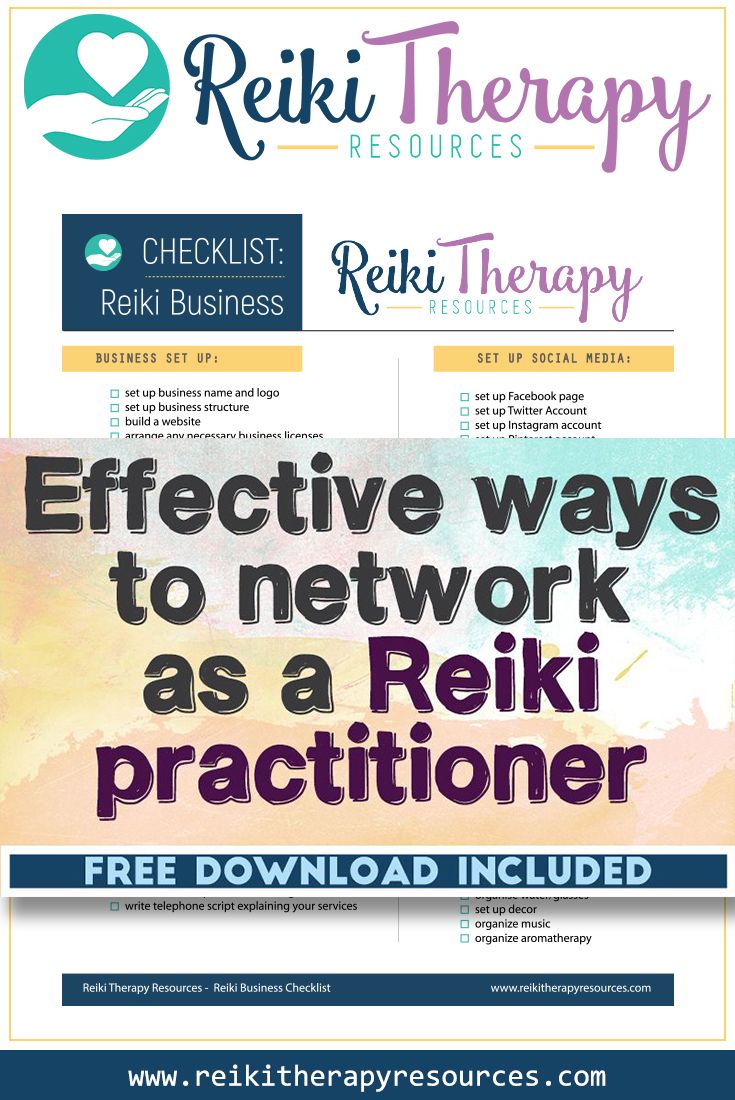 SHARE KNOWLEDGE & PASS IT ON:
If you've enjoyed this post, please share it on Facebook, Twitter, Pinterest. Thank you!