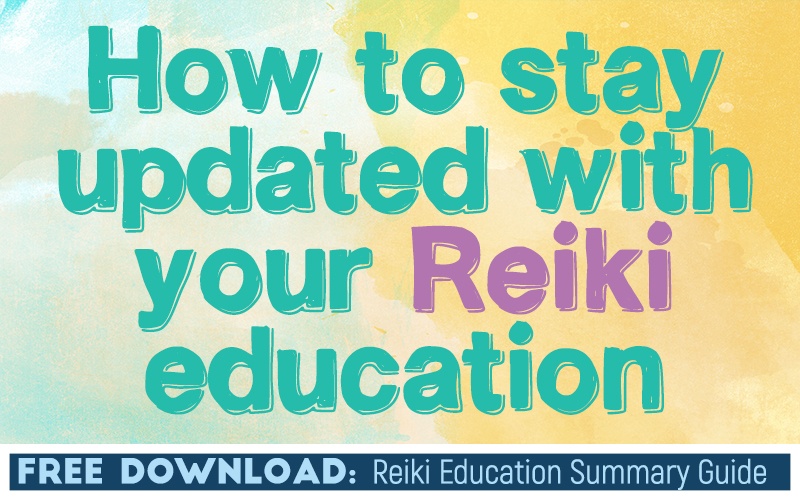 THIS POST INCLUDES:
——————————————–
1. Benefits of Reiki Education
2. Feedly (news aggregator app)
3. Google Alerts
4. How to save Reiki articles
5. Free Download Reiki Education Summary Guide
BENEFITS OF REIKI EDUCATION
As we learn more about Reiki and improve our understanding of wellness practices using Reiki, we can use this knowledge to help others receive the benefits of Reiki. As our knowledge deepens, so too does our ability to use resources and creative ideas to help clients identify their physical and emotional needs that Reiki can help with.
To learn Reiki you don't need to attend a formal education institution. Reiki education comes from other Reiki masters. If you have regular contact with a Reiki master or other Reiki educators, then you can use this avenue to increase your knowledge. However, if you don't have easy access to a Reiki master, then the internet and books can help increase your knowledge and understanding of the powerful benefits of Reiki.
It's important to remember that Reiki works on the premise of human connection and positive energy flow, therefore increasing your knowledge within these domains can benefit your Reiki practice and clients exponentially.
As a professional Reiki practitioner with clients, you will come across a number of situations that will be new to you. This may involve a clients reaction, or requests, or how to manage changes in your Reiki practice that might occur as your experience deepens. In these situations, it's helpful to have access to the wisdom and experience that the collective Reiki community shares. This is especially helpful with online communities where we can have access to a vast array of experience from other Reiki practitioners and Reiki Masters.
Included in this blog post is an introduction to Google alerts and Feedly which will help keep you up to date on news about Reiki. You can also learn about a streamlined method of saving articles in a way that will increase your productivity when you need to access them in the future.
Feedly is a news aggregator application. If you have not come across this type of app or terminology before, imagine you are creating your own magazine containing a collection of different blogs and websites that you regularly like to read. Within the app, you add the link to your chosen blog or website and the app will display the latest content from that website. This means you can use this one app to read your content, instead of having to visit the blogs/websites individually.
Feedly has a free and paid version. The free version contains a decent range of features to read, categorize and share. The Feedly paid version provides integration with other software such as Evernote, OneNote, IFTTT, Hootsuite and LinkedIn. It also has more sharing features. I have used the free version for over 3 years. I use Feedly every day and the free version has always suited my needs.
Feedly runs on your desktop computer through your browser, or on your mobile device. You can access your articles across multiple platforms. You can enter the URL of a blog/website directly or you can search for a blog/website within the app. You can organize your reading material by creating categories. For eg, you could create categories like Reiki Therapy, Natural Therapies, Business Online, Marketing, Social Media, Productivity, Personal etc.
Below are some links to the Feedly website, if you would like to learn more:
I highly recommend Feedly to manage your online reading content. Having all of your regular reading content in one place focuses your attention on one reading source instead of accessing multiple websites where your attention is scattered. It also encourages you to curate your reading content more purposefully. If you do use Feedly, make sure you add the Reiki Therapy Resources blog to your feeds.
Google Alerts aggregates information like Feedly does, however, it only aggregates links and not entire articles. With Feedly, you can read the articles within the Feedly app, whereas Google Alerts, sends you a curation of links which you can only read on each website where the original content is located.
Google Alerts allows you to filter topics, types of sites, language, geographic locations, and how many results you want to receive. To learn how to create a google alert, you can view the help information on Google here: Create a Google alert. 
I organize my google alerts to be emailed to my Evernote account which ensures my email inbox isn't cluttered with a list of reading material.
HOW TO SAVE REIKI ARTICLES
Evernote is a great way to save articles that interest you. You are able to organize articles into categories that make sense to your Reiki practice and professional interests.
Feedly allows direct integration with Evernote if you have a Pro account, however, you can still use Feedly and Evernote together if you have a FREE account.
Each article that you read in Feedly has the ability to share. All you need to do is click on the share button in Feedly and a pop-up screen will come up that requests you choose where you would like to save your article.
It is best to have your Evernote categories already created so you can easily save the Reiki article where you want to save it.
Some suggested Evernote categories include:
Reiki Education
Reiki Business
Reiki Health
Reiki Mental Health
Reiki General
Reiki Tools and Resources
These categories should cover the majority of your requirements for saving important information about your Reiki journey.
The benefit of Evernote is that you can access your account anywhere on any device. You can set the same system up in your email account, however, you may have issues with accessing your content offline or on other devices. As Evernote is a document system, it has many more features available that you allow you to save, search, change and access your saved information.
SIGN UP below to receive your FREE DOWNLOAD.
Receive a summary guide of tips to help find and save information about Reiki to help increase your Reiki knowledge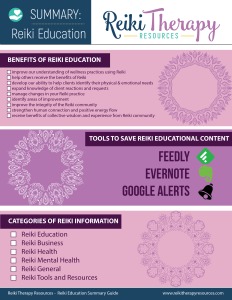 BUILD YOUR REIKI REFERENCE MATERIALS:
Pin this image to your Pinterest board.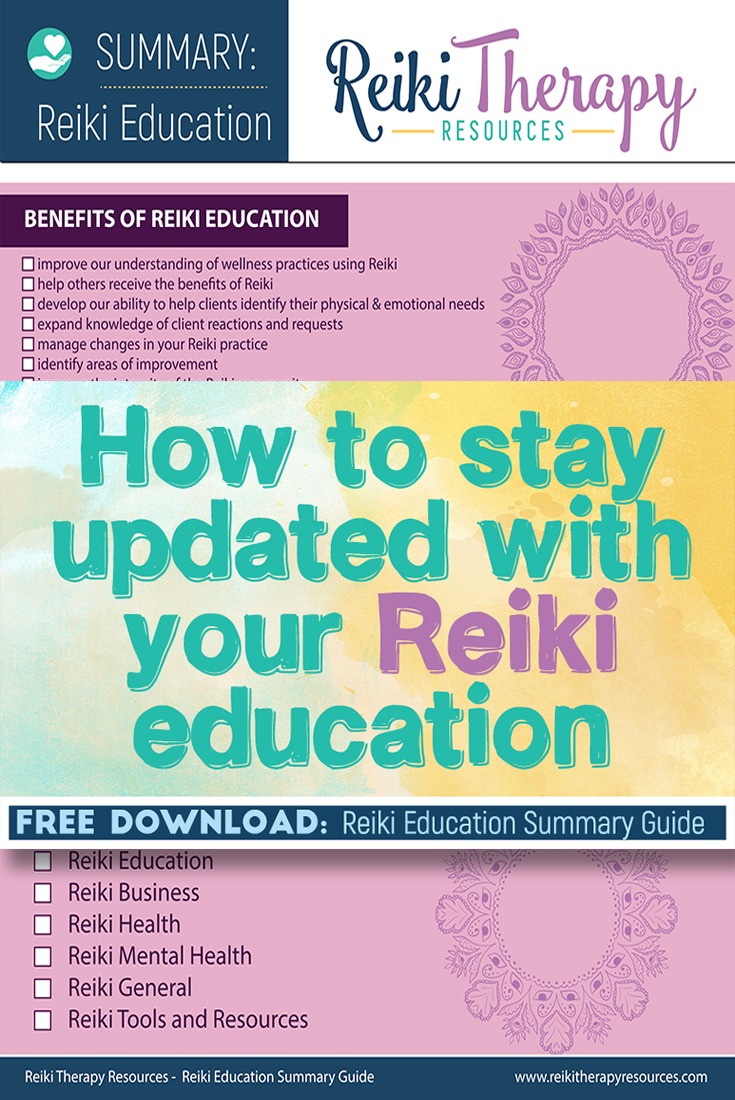 SHARE KNOWLEDGE & PASS IT ON:
If you've enjoyed this post, please share it on Facebook, Twitter, Pinterest. Thank you!