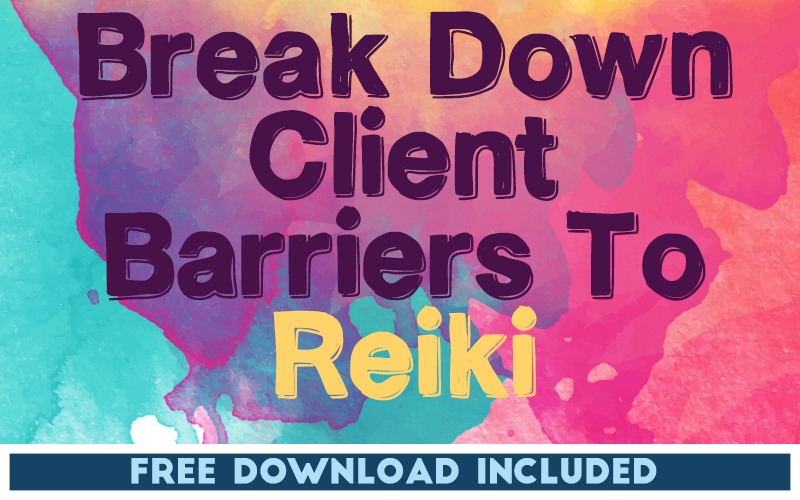 THIS POST INCLUDES:
——————————————–
1. What are Client Barriers
2. Client Barriers to Reiki
3. Reiki Practitioner Role
5. Free Download Ideal Client Checklist
Client barriers are represented as behaviors that the client exhibits. The most common client interactions in a Reiki session involve:
Initiating and attending Reiki sessions
Participating in Reiki sessions
Engaging in wellness behaviors outside of Reiki sessions
Client barriers will be different for adults and children as children often rely on parents/caregivers to help them attend Reiki sessions. Children may also lack the developmental maturity to interact with a Reiki practitioner.
You may wonder why client barriers would exist and assume that any client attending a Reiki session would want to be there. This is mostly true and for many clients, the prospect of a Reiki session is something to look forward to.
Conversely, there are clients who may be experiencing difficult circumstances in their life due to many personal reasons. While they may want to attend Reiki sessions for their own benefit, they may also realize that wellness work can often be difficult work as you explore uncomfortable emotions.
In this case, while the client's overall desire is to enjoy the benefits of Reiki, the journey through the process may be difficult at times.
Many of us don't exhibit defensive behaviors on purpose. Instead, when we are confronted with difficult emotions and experiences, we often react based on our previous experiences or what we have learned from our parents. This is the time when clients may put up barriers to receiving Reiki treatment.
There are many reasons why clients put up barriers to Reiki therapy. Below are some of the barriers you may experience at the various stages of Reiki treatment with your clients:
INITIATING AND ATTENDING REIKI
Stigma associated with natural therapy treatments
Misunderstanding of the process of Reiki
Unsure of the benefits of Reiki
Financial limitations to afford multiple Reiki sessions
Problems with accessing transport to Reiki treatment
Communication problems (language and hearing problems)
Availability due to work commitments
Family commitments
Resistance from family members against their loved one seeking Reiki treatment
PARTICIPATING IN REIKI
Isolation from family members who disapprove of Reiki
Stigma associated with receiving Reiki (natural therapies vs medical treatment)
Self-defeating behaviors linked to providing self-care
Defensiveness over physical and psychological wellness issues
Resistance to interacting with Reiki practitioner
Cultural differences (language, values, beliefs)
Developmental functioning
Poor therapeutic relationship with Reiki practitioner
Distracting location where Reiki sessions are held
Clients fear of failure and receiving judgment
Physical limitations to receiving Reiki
Cognitive impairments such as dementia
When working with your client, it's important to remain aware of the barriers that your client may be experiencing.
You can determine if your client is experiencing any physical or financial limitations in attending Reiki sessions at your location and try and accommodate any requirements they may have to be able to attend.
If your client is experiencing pressure from outside relationships such as a partner or other family members, you can engage in discussion with your client about these effects. Work with your client to create a strategy to minimize barriers. It is important not to involve yourself in family counseling matters as this isn't a part of your Reiki skillset.
If you feel your skill level may not be suitable for your client, you can provide a referral if necessary. You may also be able to provide information about community resources that your client can use to help with transport and financial assistance if available.
You can make information available on your website to explain the benefits of Reiki. You can also make information available that explains your specific process of providing Reiki treatment and how accessible your Reiki practice is to potential clients.
As part of the information that you make available on your website, you can address any possible barriers that your client may believe prevents them from booking an appointment. Most potential customers of a service will go through various stages of decision making before making a significant commitment, investment, or purchase. You can take an opportunity to address any possible concerns that a potential client may have.
Your role as a wellness practitioner is to help your client defuse any feelings of anxiety that may occur during each Reiki session. You should use common language and terminology that your client will understand and encourage them to ask any questions they may have about Reiki.
SIGN UP below to receive your FREE DOWNLOAD. 
Once you enter your email address, you will receive access to the Free Ideal Client Checklist so that you can work on attracting the type of clients you would like to work with in your Reiki practice.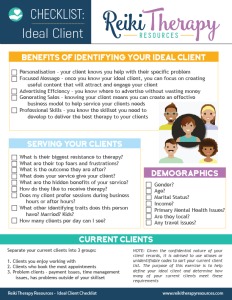 BUILD YOUR REIKI REFERENCE MATERIALS:
Pin this image to your Pinterest board.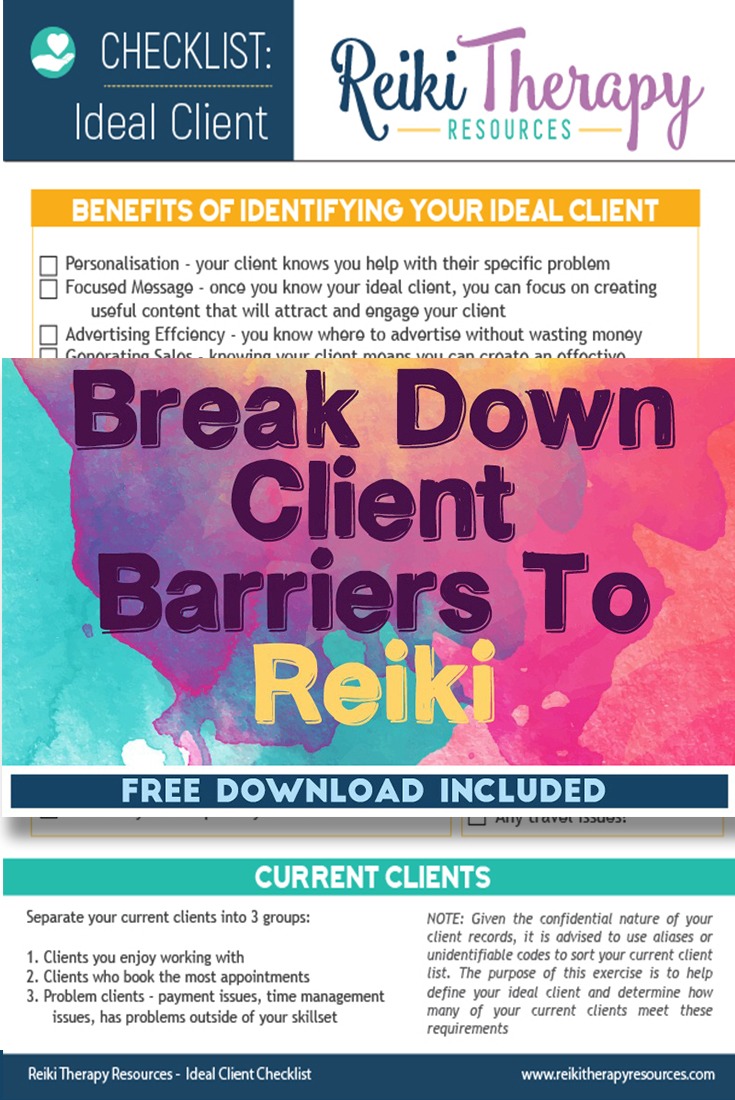 SHARE KNOWLEDGE & PASS IT ON:
If you've enjoyed this post, please share it on Facebook, Twitter, Pinterest. Thank you!