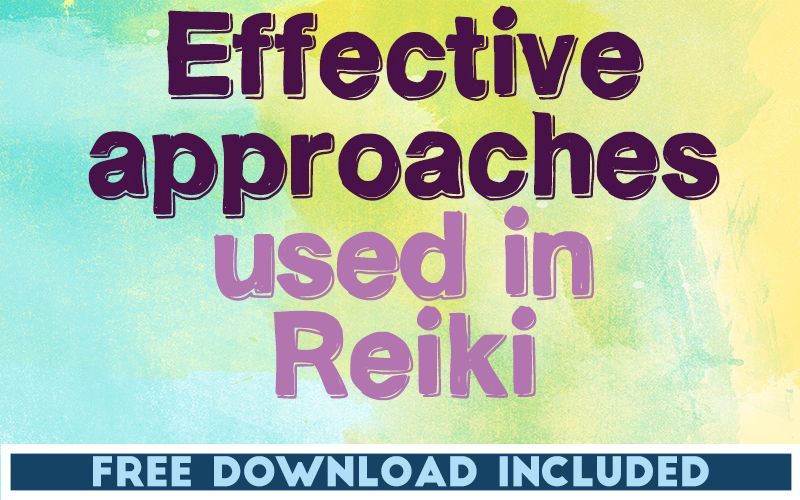 THIS POST INCLUDES:
——————————————–
1. Your approach to Reiki
2. Effective ways to engage in Reiki
3. FREE DOWNLOAD Effective ways to engage in Reiki
As practitioners, we bring our experiences and beliefs to our work and our desire to help clients. Each practitioner hopes to establish a professional practice that aligns with their personally held beliefs about healing and how they would like to help their clients.
While Reiki is based on a foundation of understanding from the traditional practice of Reiki, we also have our own approach to interacting with clients and the way in which we provide Reiki treatment.
As Reiki practitioners we are also influenced by the approach that our Reiki master introduced us to in our own learning of Reiki. Additionally, we are often influenced by our own individual experiences of receiving Reiki when we were first introduced to Reiki.
All of these factors play an important part of how we provide Reiki to our own clients and future students.
As we become more experienced in our Reiki practice, we will also be exposed to a variety of clients who are facing different challenges and abilities to receive Reiki treatment. This will also influence the approach we take to working with clients and providing Reiki treatments. Reiki treatments should always take into consideration any individual needs that our clients have. This could refer to preferences, disabilities, phobias, fears, developmental issues, and physical illness.
Clients come to treatment with a variety of life experience and events. Reiki practitioners should conduct an intuitive assessment of the client's needs, as well as their responsiveness to Reiki treatment. This is also relevant to the demographics of the client including their age and emotional and cognitive development.
EFFECTIVE WAYS TO ENGAGE IN REIKI
Reiki can be used with clients using a variety of approaches. Below are some of the common approaches that practitioners take when providing Reiki to clients within the therapeutic setting:
Mindfulness – primarily meditation based with a focus on developing living in the moment of mindfulness
Counseling – based on a mental health model of psychological approaches
Physical wellness – based on a biological model of physical wellness including yoga, stretching, massage, and Pilate's methods.
Rituals – based on an approach of instilling important rituals and held beliefs about healing, cleansing, and symbolism.
Energy systems – based on energy systems held in our body such as aura, meridian, and chakras
SIGN UP below to receive your FREE DOWNLOAD. Once you enter your email address, you will receive access to the Free Client Session Notes Template.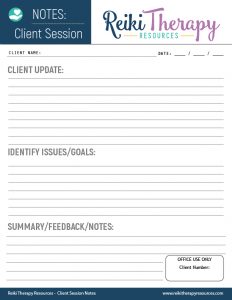 BUILD YOUR REIKI REFERENCE MATERIALS:
Pin this image to your Pinterest board.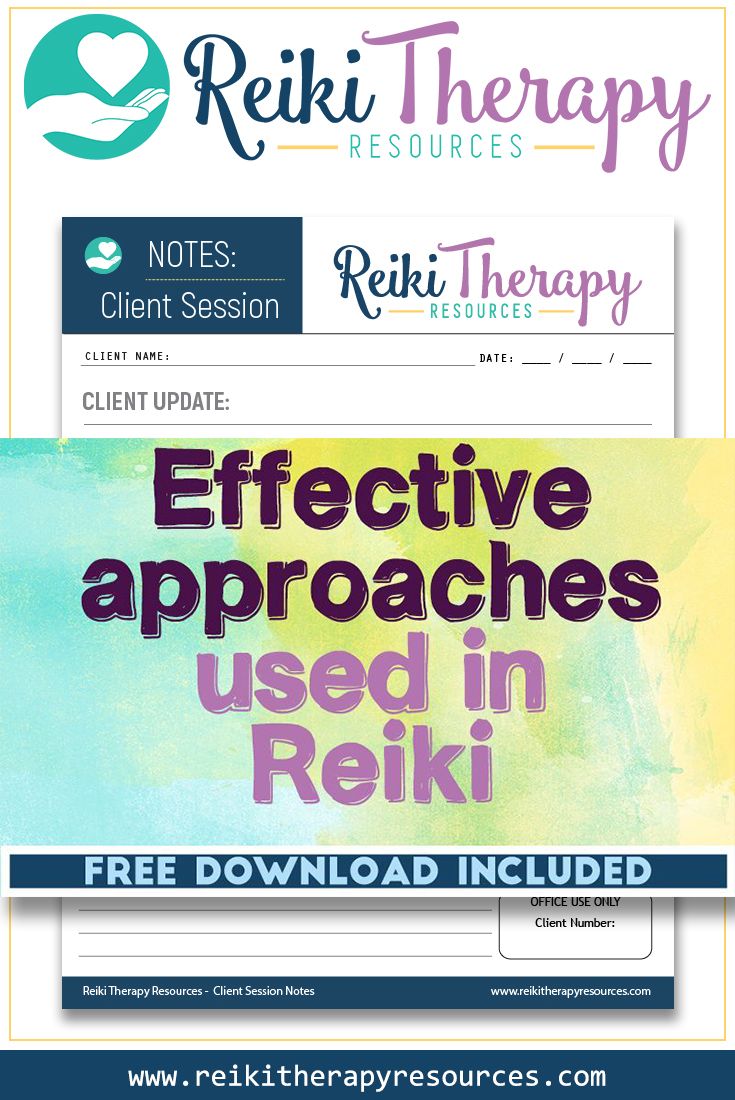 SHARE KNOWLEDGE & PASS IT ON:
If you've enjoyed this post, please share it on Facebook, Twitter, Pinterest. Thank you!