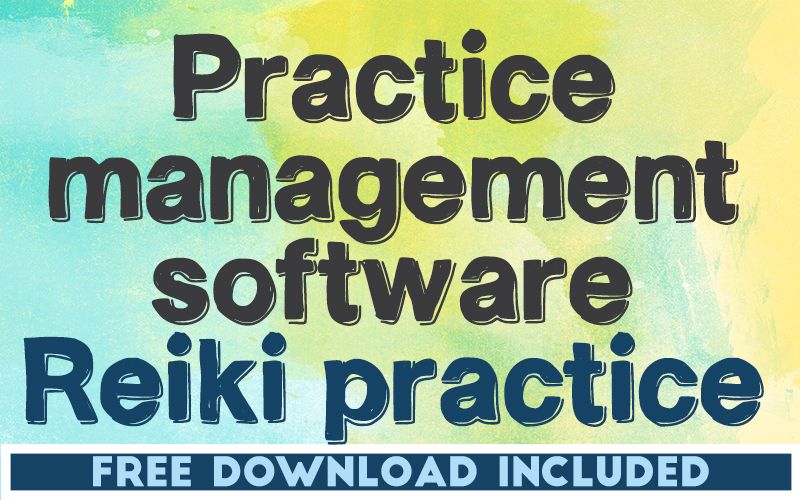 THIS POST INCLUDES:
——————————————–
1. What is practice management software
2. Benefits of practice management software
3. Risks of practice management software
4. Choosing practice management software
5. FREE DOWNLOAD Client Session Notes Template
WHAT IS PRACTICE MANAGEMENT SOFTWARE
The use of electronic practice management software (EHR – electronic health record) has become increasingly popular over the past few years. Along with its popularity in use, there has been an influx of new software providers releasing practice management software.
Competition for these type of products is good for the consumers, however, it can also lead to confusion and indecision when presented with so many options.
In this blog post, we discuss what practice management software is and how it can benefit your Reiki practice.
We also look at some of the risks associated with implementing practice management software. The most important step to mitigating the potential risks associated with implementing practice management software is to know what your practice needs so that you are not underinvesting or overinvesting in the wrong software for your practice.
BENEFITS OF PRACTICE MANAGEMENT SOFTWARE
The main benefits of using practice management software include:
Comprehensive client records
Remote access to client records
Consistent record keeping
Audit trails
Reporting for decision making
Efficient communication amongst staff accessing records
Improved communication with clients
Eliminate redundant and repetitive tasks
Access provided to clients
Reduction of administrative costs
Improved financial management
Improved security and access to backup data
Reducing reliance on physical paperwork
Improved ethical compliance
Track client progress
Access to built in templates
It's important to note that not all practice management software contains all of the benefits listed above.
RISKS OF PRACTICE MANAGEMENT SOFTWARE
There are a number of risks to using practice management software. Some of the most common risks include:
Ownership of data if the contract is terminated or the private practice closes
Access to data if the software vendor goes out of business or experiences a data breach
Data restoration if a data breach occurs
Outdated software practices if the vendor does not maintain the software
Canceling a subscription may result in loss of data
Confidentiality and security may be breached
Onerous data entry tasks
An initial learning curve for each new user
Additional training costs
CHOOSING PRACTICE MANAGEMENT SOFTWARE
KNOW YOUR PRACTICE MANAGEMENT REQUIREMENTS
Every practice has their own set of requirements that may be unique to their clientele. To determine what your requirements are it is beneficial to review the client management and administrative process that you regularly conduct every day. Think about the tasks that appear as repetitive and redundant and consider whether software can eliminate or reduce your need to complete these tasks. Consider the tasks that you think are most susceptible to security risks and consider whether you want to expose these aspects to the potential for a security breach.
As you create your list of requirements, rank the list according to your most desired features so that you can prioritize the essential features that you want included in the practice management software you would use in your practice.
CLOUD-BASED vs IN-HOUSE
Practice management software can be used in two ways:
In-house use through a local installation of software on your computer
Online access via cloud-based software
Each system has its positives and negatives. Your choice will depend on your budget, your access requirements (offline, remote, multiple users), and your ability to maintain the software.
TRY A SOFTWARE DEMO
Before you decide on the practice management software to use in your Reiki practice, it is a good idea to use a demo version of the software for at least a month. A month will give you a good indication of the various tasks you will complete over a month. Most software companies will provide a limited demo period between 7-30 days. You should watch training videos prior to starting your demo so that you don't waste your demo time on learning how to use the software. You should aim to use your demo period to test the software instead of learning about it.
RESEARCH REVIEWS
Once you have narrowed down your choices of the practice management software, it is helpful to read some reviews of the software. If you know other practitioners who use the software, you can ask for their opinions on the pros and cons of using the software. It's important to be mindful of the reviews that you are reading as some reviews can be skewed towards being positive if the software vendor has been involved in the review process.
If you are a member of online networking groups, you can ask other Reiki practitioners for their opinion on the practice management software that they use.
SECURITY
Security is a significant factor to consider when purchasing practice management software. This is especially relevant given the confidentiality requirements in place for recording and storing client data.
It is important to understand how the software vendor protects data. You should also understand how the software vendor manages a security breach. A security breach affects both the potential abuse of client information as well as causing a major disruption to the functioning of your therapy practice.
PRIVATE PRACTICE MANAGEMENT SOFTWARE
Below are some of the current options available for practice management software along with links to each vendor website for more information.
NOTE: Some of the software options listed below may not contain a comprehensive suite of practice management features.
SIGN UP below to receive your FREE DOWNLOAD. Once you enter your email address, you will receive access to the Free Client Session Notes Template.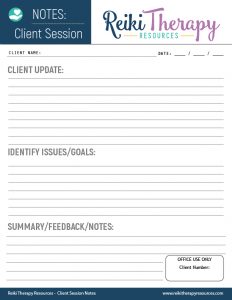 BUILD YOUR REIKI REFERENCE MATERIALS:
Pin this image to your Pinterest board.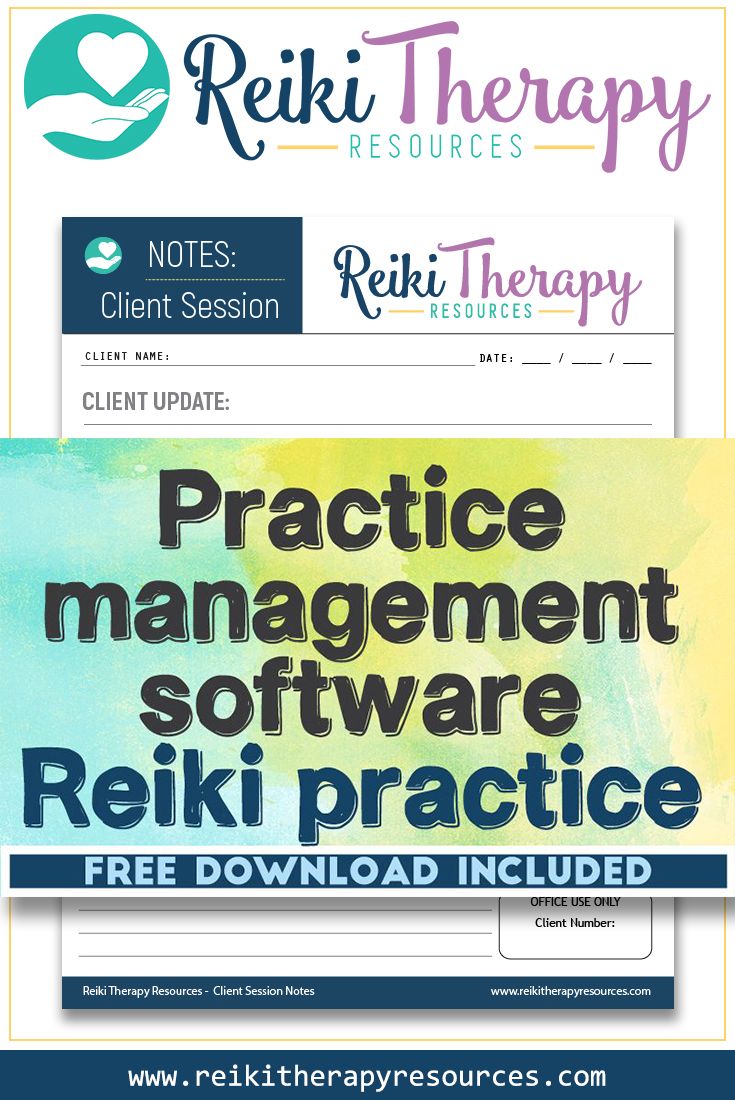 SHARE KNOWLEDGE & PASS IT ON:
If you've enjoyed this post, please share it on Facebook, Twitter, Pinterest. Thank you!