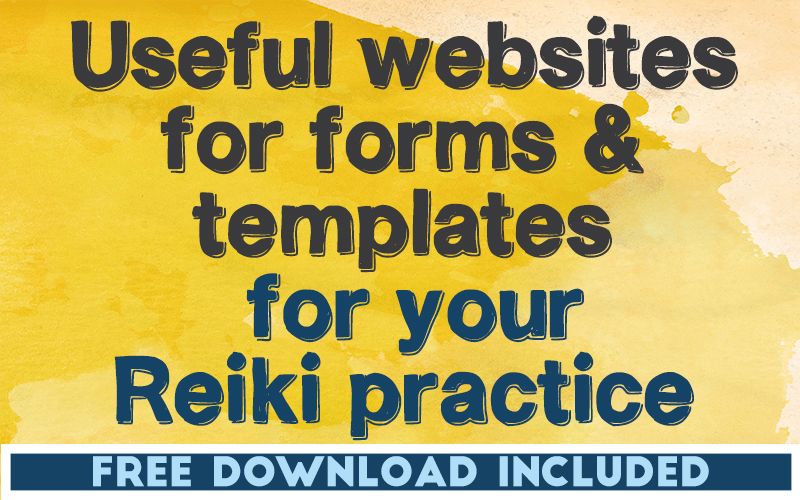 THIS POST INCLUDES:
——————————————–
1. Using Forms and Templates
2. Benefits of using forms and templates
3. Types of forms and templates
4. Creating your own forms and templates
5. FREE DOWNLOAD Client Session Notes Template
USING FORMS AND TEMPLATES
As a Reiki practitioner working with clients, you will spend a significant amount of time with your client. This work is supported by using resources such as form, templates, and tools.
Forms and templates help facilitate the process of booking your client and recording client information for your Reiki practice. Templates can help facilitate the process of introducing your client to your practice and the policies that you use within your practice.
Creating these resources and templates can take time especially as forms within a therapeutic setting must meet privacy, ethical, and legal considerations to protect clients. Using resources created by other professional organizations can help you are meet your obligations as a professional Reiki practitioner.
Using these resources can help you develop your professional skills by providing a framework and foundation on how to deliver specific interventions.
BENEFITS OF USING FORMS AND TEMPLATES
Some of the common benefits of using forms and templates include:
1. ADMINISTRATIVE TASKS:
Easy to use
Reduces administrative efforts
Reduces clients administrative efforts of attending your practice
Provide consistency to your Reiki practice policies
Develops best practices
Reduces errors through checklists
Increase speed of administrative tasks
Increases attention to detail
Saves money
Reduces redundant tasks
Reduces repetitiveness
Maintains brand consistency for your Reiki practice
Simplifies document workflow
2. CLIENT CARE:
Provide consistent education for your clients
Facilitate best practices
Reduces error through checklists
Increases professionalism in providing your services
Simplifies document workflow
Provides consistent treatment
Provides insight into your client's progress
TYPES OF FORMS AND TEMPLATES
Some of the most common types of forms and templates are listed below:
Intake forms – client information, consent forms
Office Administration forms
Practice Policies – legal, cancellation, refund, privacy etc
Treatment Plan templates
Progress Trackers
Calendars
Task Checklists
Project templates
Email templates – inquiries, reminders etc
Letter templates – referrals, request responses
In the store here at Reiki Therapy Resources, we provide a number of packages that contain these various types of forms, and templates. Some of the packages and forms/templates are listed below:
Click on each link to read more details about each package
————————
BUSINESS ADMIN
Business Details
Accounts
Contacts
Financial Policies
Fee Schedule
Cancellation Policy
Refund Policy
Legal Policies
Copyright
Disclaimers
Terms of Use
Privacy Policy
Business Trackers
Social Media Tips
Business Admin Maintenance
Calendars
BUSINESS DEVELOPMENT
Business Goals
Project Template
CLIENT ADMIN
Client Intake Checklist
Client Call Log
Consent for Services
Client Privacy Policy
Social Media Policy
EMAIL & LETTER TEMPLATES
Inquiry Reply
Referral Request
Reminder Late Payment
————————
BLOG ADMIN
Blog Post Ideas Worksheet
Content planner
Writing Tips
BLOG WRITING
Types of blog posts
Creating your blog post title
Writing methodology
Blog post template
Blog post checklist
————————
COURSE ADMIN
Master Checklist
Admin
Tech
Financial
Folder Structure
Customer Sales Funnel
COURSE DESIGN
Course Topic
Course Format
Course Delivery
Course Creation
MARKETING
Marketing Assets
Blogging
Social Media
Email
External
WORKSHEETS
Worksheet List
Master Checklist
Important Links
Financial
Folder structure
Sales funnel
30 Day Planner
Course modules
Sales page content
Email outlines
CREATING YOUR OWN FORMS AND TEMPLATES
You can create your own forms and templates that are relevant to your practice and contain your own Reiki practice branding including your logo and business details.
You can create a single document and print it multiple times if you physically process and store paperwork. Alternatively, you can create digital formats for your paperwork for electronic processing and storage.
If you process paperwork physically this means you can create your forms and templates in whatever format you prefer. If you choose to process paperwork digitally, you can create your form/template using software you prefer, however, you need to make your digital paperwork accessible to the clients in a variety of ways.
Some clients may not have access to Office products and therefore may not be able to complete Microsoft Word documents. Pdf documents are universally accessible and can also be interactive by accepting input from clients.
WHAT ARE YOUR REQUIREMENTS
When creating your own forms and templates, you should first start by writing a list of requirements that you need to collect. This is information that you may need to collect to meet legislative requirements or ethical requirements by your industry association.
You will also want to capture information fro your client that may benefit your understanding of the client's current situation.
You may also want to include information that helps you learn about how your client found your business.
For questions that are not required by legislation or ethical standards, you can highlight them as optional so that your client understands they are not obliged to answer those questions. You should be respectful of your client's information and the time required for them to spend on administrative tasks.
HOW TO CREATE YOUR OWN FORM OR TEMPLATE
CHOOSING SOFTWARE
The most common software to use to create your own forms and templates is Microsoft Word. Microsoft Word is a widely used software that provides a lot of flexibility in creating various styles of forms. You can incorporate your own logo, business information, graphics, tables, spreadsheets, and input fields. Microsoft Word also allows you to save your document in a variety of formats to provide to your clients.
If you want to use more robust software to create your forms and templates, you could use software from the Adobe Suite. The most common software programs used from the Adobe Suite to create documents include Illustrator, InDesign, and Photoshop.
InDesign is used professionally to make magazines and printed books and therefore contains features that will help you easily create professional documents. Illustrator and Photoshop are traditionally used for graphics and images, however, they are also easily used for creating text based documents.
Adobe products do have a steeper learning curve than Office products. They are also more expensive and provide a limited range of exporting your documents for use by other people such as your clients. The most positive benefits of using Adobe products is they contain a lot of features that can help you produce beautifully designed documents.
As technology improves, software providers are always looking for ways to improve their features to entice users to use their products. Microsoft Word has evolved substantially over time from being a purely text based program to now incorporating many graphic, interactive, and internet based features to help you create well designs and accessible documents to many users of the document.
CREATE YOUR DOCUMENT
At this stage you've written down all of your requirements to include in your document and chosen your preferred software.
Now you need to create your document. For any software you choose to use, the creators of the software will usually include templates for you to use as a guide to develop your own template. You will also find that users of the software often make their template versions freely available to other users.
For example, Microsoft Word contains a number of templates to create a calendar.
3 ways you can create a form template include:
Make your own form/template from scratch
Use a premade form/template that is provided by the software developers or other 3rd parties
Use a premade form/template as a framework and amend it to incorporate your own requirements
SIGN UP below to receive your FREE DOWNLOAD. Once you enter your email address, you will receive access to the Free Client Session Notes Template.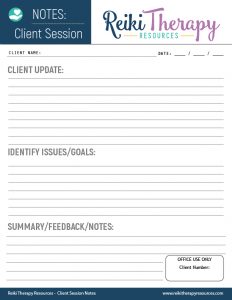 BUILD YOUR REIKI REFERENCE MATERIALS:
Pin this image to your Pinterest board.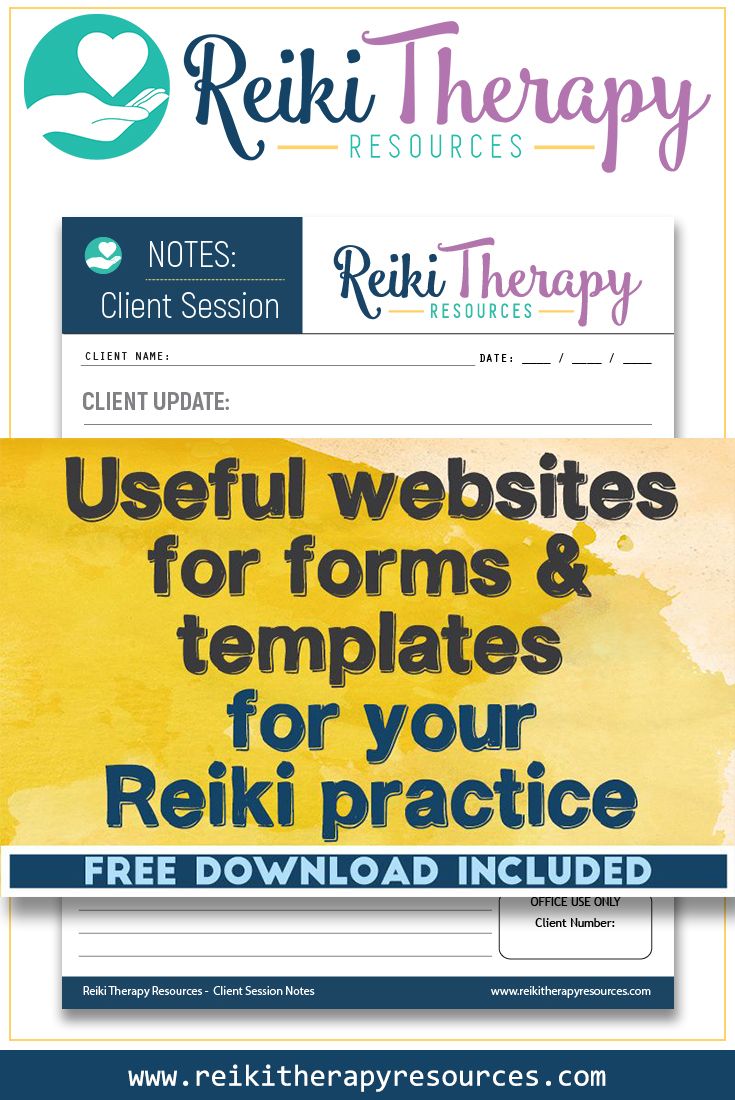 SHARE KNOWLEDGE & PASS IT ON:
If you've enjoyed this post, please share it on Facebook, Twitter, Pinterest. Thank you!