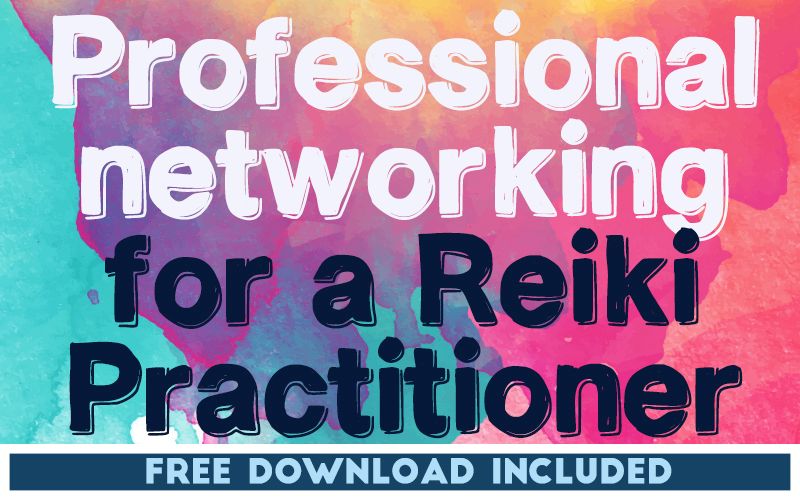 THIS POST INCLUDES:
——————————————–
1. Why you need a professional network
2. Types of Contacts
3. How to build your network
4. Staying connected with your network
5. Download Network Contact List Template
Previously we wrote a blog post about 10 Reiki Associations and Organizations and a second blog post How to Create a Business Network. This blog post builds upon those networks and focuses on professional networking as a Reiki therapist to develop your professional skills and promote your services and products.
Establishing a professional network in your Reiki therapy practice provides many benefits, including:
Professional development and advice
General wellness and holistic education
Ethical issues
Developing client management systems
Collaboration
Developing a mentorship
Engaging in community service
Below is a list of the common professional contacts you may have in your Reiki network.
Summary of main network contacts:
Doctor (GP)
Allied Health professionals
Other Reiki therapists
Governing body or Association
Hospitals
Community Groups
HOW TO BUILD YOUR NETWORK
Each person in your professional network will impact different parts of your Reiki practice. As a Reiki practitioner, you can develop a collection of letters, templates, documents and marketing materials that will help you easily connect with other professionals.
YOUR FIRST STEPS
Create a simple statement or "elevator pitch' that tells people what you do.
Create an introductory letter/email template
Create a brochure about your practice
Create a business card
Create a page on your website that has information about your practice for people in your professional network. Include this link in your introductory letter/email.
Send your introductory letter/email as well as some brochures and business cards with the understanding these may be given to potential clients.
Follow up in a few weeks to maintain contact within your network. You can choose to include additional marketing material such as brochures and business cards again.
CREATE YOUR ELEVATOR PITCH
An elevator pitch refers to a short statement that you can repeat to another person while you ride an elevator between floors. It is meant to define a short amount of time (30-60 secs) where you can explain what you do in your business and the benefits you offer your clients.
Creating an elevator pitch helps synthesize the description of the specialized services that you offer in your Reiki practice and the ideal client that can benefit from your services.
When creating your elevator speech, remember to:
Keep it short.
Identify details about your niche skills.
Identify your ideal client.
Focus on benefits.
Here is an example of a Reiki therapist elevator pitch:
SHORT VERSION: I am a Reiki practitioner who helps women with chronic fatigue symptoms and general pain management.
LONGER VERSION: I am a Reiki practitioner who helps women with chronic fatigue symptoms and general pain management. I help women process their emotional and physical pain in a safe and supportive environment using Reiki principles.
CONNECTIONS TO MAKE
Making connections with other professionals requires an understanding of where your ideal client can be found and the types of other professionals who would easily refer their clients to Reiki services.
Some examples of professional healthcare professionals who may refer clients to a Reiki practitioner include:
Dentists
Dieticians
Physiotherapist
Doula
Occupational Therapist
Social Workers
Speech pathologists
Optometrist
This list could also extend to professionals from complementary health services such as:
Acupuncture
Naturopathy
Yoga
Massage
Kinesiology
….so many more….
To extend your network even further you could also make contact with other services including:
Child care
Hairdressers
Beauty salon
Weight loss centers
Tutoring business
You may also want to look at organizations that work with your ideal clients such as non-profits or smaller organizations that may have a limited budget and want to find resources to help their clients.
STAY CONNECTED WITH YOUR NETWORK
Creating your initial networking list requires some effort as well as maintaining regular contact. Establishing this network can take persistence, however, the benefits from introducing your business to other professional services can be worth the effort. It is important to keep regular contact, but not intrude on other people's time.
You may want to set an initial goal of at least 20 referral sources that you could contact to seek potential clients. Over time you could expand this list to 100+ contacts. As you create your list, take note of their contact details, including social media. You should also regularly update your list in case some services cease operation.
Networking efforts can feel ineffective in the initial stages where you may feel like your contacts are not responding. Persistence and consistency are the most important aspects of marketing your business, however, it's important to be respectful of the other person and their business.
If you struggle to develop a networking workflow, try building the process into a part of your business administrative tasks. You can do this by setting yourself a goal of contacts to meet, eg. 5 contacts per month.
Email is the easiest method to contact people in your network, however, you can also call, send handwritten notes, or meeting in person.
Other ways of establishing new contacts include:
attending conferences
education events
community events
online forums (LinkedIn, Facebook Pages/Groups etc)
Your professional network should be a reciprocal connection where you remain open to helping others in your network as well. Developing your network across many different sectors will help you develop a broader range of skills aside from Reiki services such as public speaking or creating community events.
Need help with creating your email and letter template?
If you need help to create templates to establish your network connections, we have an Admin Package in the store which contains a Referral Request template.
SIGN UP below to receive your FREE DOWNLOAD. Once you enter your email address, you will receive access to the Free Reiki Professional Networking List Template.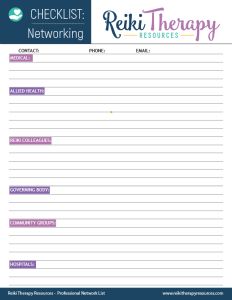 BUILD YOUR REIKI REFERENCE MATERIALS:
Pin this image to your Pinterest board.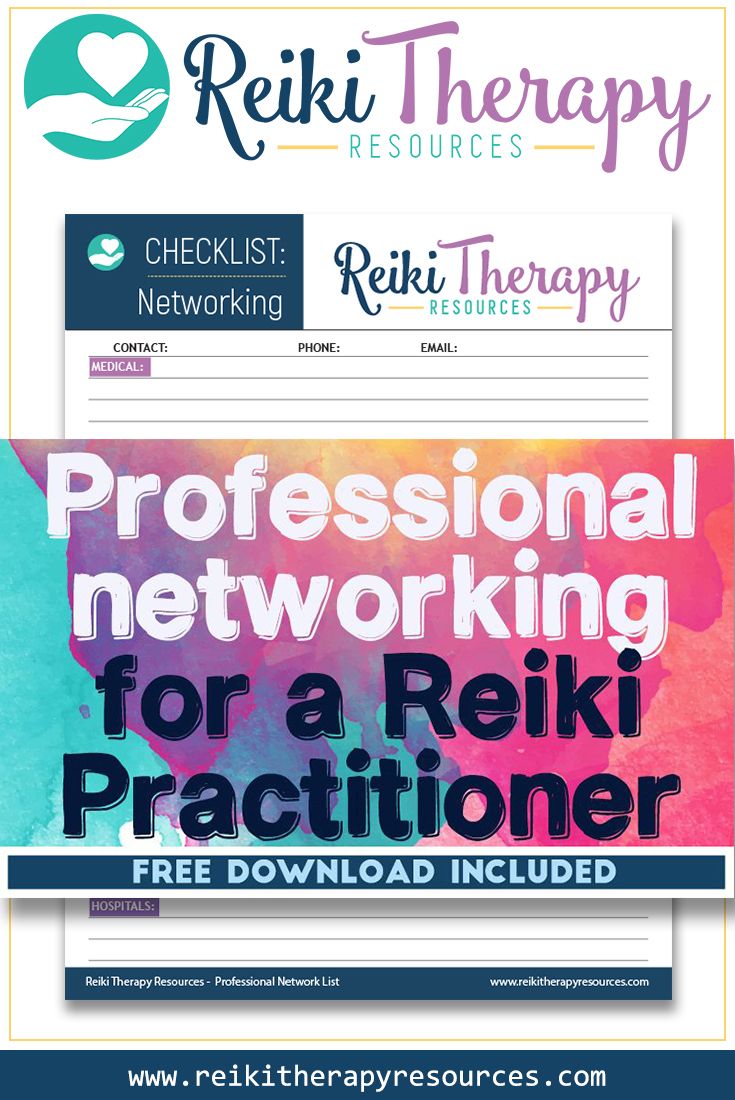 SHARE KNOWLEDGE & PASS IT ON:
If you've enjoyed this post, please share it on Facebook, Twitter, Pinterest. Thank you!