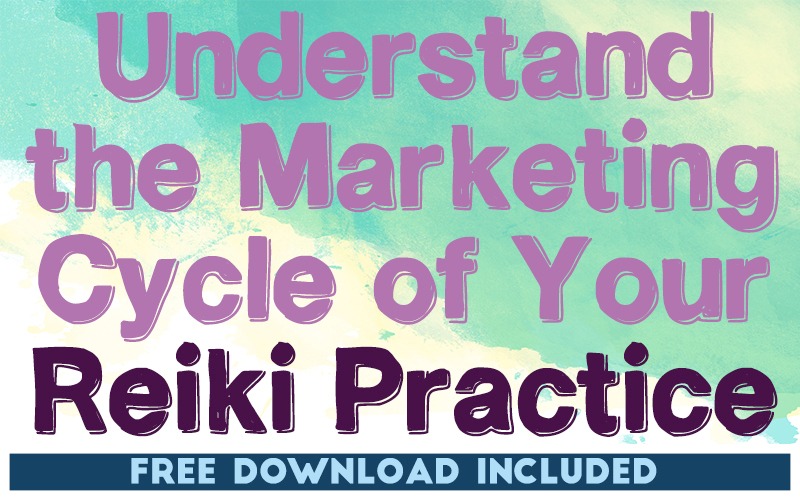 THIS POST INCLUDES:
——————————————–
1. What is the Marketing Cycle
2. Marketing Yourself
3. What is Your Product
4. Attracting Your Reiki Customer
5. Selling Reiki Products and Services
6. Keep Reiki Clients Returning
7. Measure and Evaluate Your Business Data
8. Free Download Your Marketing Cycle Worksheet
WHAT IS THE MARKETING CYCLE
For many businesses, the marketing cycle can be defined by 3 main steps:
Getting attention from your potential client/customer
Positioning your business
Selling your products/services
These are the 3 core steps you should use to develop the primary focus of your marketing strategy.
The first step of the marketing cycle involves getting attention from your potential client/customer. Focusing on gaining attention will ensure that potential clients can find your service. Examples of getting attention include having a website presence, business cards, and social media presence.
You should develop a clear and consistent message to marketing across all platforms so that potential clients can feel confident in your approach to helping them. Your marketing message should be interesting enough so that your potential client is motivated to progress to the next step in the marketing cycle – positioning.
The second step of the marketing cycle is positioning. Once you have your potential client's attention, you then should position your business as a solution to your client's problems. This includes identifying the benefits you can provide to your client as well as highlighting the unique benefits of your business over others. This might include easy appointment access, flexible payment methods, or significant experience in dealing with a specific issue including any additional training you may have.
The third step of the marketing cycle is the selling phase. This involves selling your products and services to your potential client. For the purposes of a Reiki practice, this specifically involves getting your potential client to book an appointment with you for a Reiki session.
Most of us may perceive marketing to be a strategy that larger companies use due to their ability to afford large marketing budgets. However, marketing is just as important for small businesses such as Reiki practitioners. The budget may be smaller, however, the strategy remains the same in terms of focusing on the 3 core steps – attention, positioning, and selling.
As a private practitioner who provides services through Reiki, your business product is mainly focused around you as a Reiki practitioner and the skills you have that can help your clients.
This means that the most significant part of your marketing strategy is focused on marketing you as a Reiki practitioner. As part of your marketing strategy, you should focus your marketing message on your specific Reiki skills and experience you bring to your business.
Your marketing message should focus on providing your expertise in the following areas:
Experience across the lifespan – young children, adolescents, adults and the elderly
Experience with specific physical problems – pain, headaches, fatigue etc
Experience with specific life events – divorce, grief, life transitions etc
It is helpful to think about the possible reasons that your potential Reiki client may be searching for your Reiki service. If you are unsure what your potential client may be searching for then use the issues that your current clients bring as a guide.
Think about when your current clients first made contact with you and the possible points of discussion they bought up when asking about your services. Use this information to help guide your marketing message to find additional potential clients.
If you provide services only through Reiki treatment sessions, then your "product" is your sessions. To market your Reiki sessions as your product involves providing your potential Reiki client with some details about how a typical Reiki session might be run. You can include a description of Reiki session in your marketing materials so that your client can learn what to expect in a typical Reiki session.
As part of your marketing materials, you should consider addressing any concerns that you think a potential client may have with regard to attending any Reiki sessions. Some common issues to explain are whether the client is expected to do anything, what they should wear for a Reiki session, and how they may feel after a Reiki session.
If you sell other products in your Reiki practice, such as books/ebooks, workshops, courses, wellness supplies, you can include information about these products in your marketing materials. You can use images, text, video, and audio to help create interest in these products including how the product can help your client.
Your marketing message should identify the problems that you can help with and the benefits your client can gain from your services and products.
Your product marketing should include:
Create interesting images
Who is the ideal client that your product can help?
What problems can your product help with?
What is the solution that your product will provide?
What results can your client expect?
How is this product unique compared to others?
It's important that you don't oversell the ability of your product to provide cures or give guaranteed results.
ATTRACTING YOUR REIKI CUSTOMER
Attracting your ideal Reiki client involves finding a potential client and then ensuring that your practice can provide the best possible solution to their problem. Your potential client's first problem is generally finding a Reiki practitioner who suits their requirements with regard to appointment times, cost and their personal approach to working with clients.
Your ability to help and work with clients should be the most important statements that you make known in your marketing strategy. The way in which you refer to the clients that you work with should clearly resonate with your potential client who views your marketing material whether it be on your website or an offline platform.
Once your potential client determines they can easily access your Reiki service, they should then feel confident that your services can help with the specific problem they are attempting to resolve. Your marketing materials should easily identify the most common issues that you can help with so that your potential client can easily identify themselves from your list.
We've created a free Ideal Client Checklist for you to download. This checklist will help you identify who your ideal client is. You can download the free checklist from our previous blog post: How to Break Down Client Barriers To Reiki
SELLING YOUR REIKI PRODUCTS AND SERVICES
One of the most important parts of your marketing cycle is selling your products and services. This is the part of your Reiki practice where your marketing efforts begin to deliver results through sales and clients booking your services.
The selling stage relates to the process of exchanging payment for good and services, however, it also involves some activities before and after the sale that help ensure the selling process runs smoothly.
To ensure a sale occurs, you should address any potential obstacles that your Reiki client may express before booking their appointment. Examples of obstacles might be whether they believe Reiki can help with their problem, as well as the cost and their ability to attend regular sessions.
KEEP REIKI CLIENTS RETURNING
It is a positive sign if your Reiki practice can develop a regular client base of returning customers. To have the same clients returning for regular Reiki treatments indicates you have excellent customer retention. Excellent customer retention generally indicates you are helping your client and that your business has regular income to help maintain and grow your Reiki practice.
There are a number of factors that can impact whether a client will return to your Reiki practice on a regular basis. Firstly the client must have the financial means to afford Reiki treatments. Additionally, your client must have the ability to attend Reiki sessions each time while also juggling other external commitments. These factors play a significant part of your client's decision to return for regular Reiki sessions.
Some of the most important factors to improve client retention in your Reiki practice include:
providing client-focused care
providing clarity about the services that you offer
providing appointment times that are convenient for your clients
providing payment methods that are convenient for your clients
making your Reiki practice location accessible and welcoming to your client
establishing a healthy alliance with your client
providing clarity and realistic expectations around Reiki treatment
providing text and email reminders about appointments
MEASURE & EVALUATE YOUR BUSINESS DATA
Once you have your marketing strategy in place, it's important to analyze the effectiveness of your efforts by evaluating whether your marketing strategies are positively impacting your Reiki practice income.
Analyzing your financial results can provide helpful insight into whether your original goals are being achieved in your Reiki practice. It's useful to compare your results between each year as well as comparing each month as you progress through the year. Reviewing your financial data on a monthly basis will provide you with the opportunity to make changes to your strategy when you need to without waiting a full year before your taxes are completed.
Another useful metric to compare is your client attendance rates between each month.
Any information that you review should be analyzed in the context of how much money you spend on advertising and the marketing strategy that you implement.
If you allocated no spending budget to marketing and your client base was 1-2 clients per day, you would aim to be seeing many more clients each day if you implemented a monthly marketing budget. For example, you may start spending $50 a month on advertising and your client base might increase to 5 clients per day.
If you were spending $50 a month on advertising in Year 1 and seeing 5 clients per day and then spending $50 a month in Year 2 but only seeing 2 clients per day, this would indicate that you need to review your marketing efforts to see why the same $50 per month on advertising is not achieving similar results.
Useful information that you should regularly evaluate include:
Income between comparison periods
Income vs money spent on marketing/advertising
Number of clients between comparison periods
Initial inquiries made to your private practice vs clients booked
Social media growth on each platform
Website metrics such as page views, user visits, email sign ups etc
Client feedback
SIGN UP below to receive your FREE DOWNLOAD. Once you enter your email address, you will receive access to the Free Marketing Cycle Worksheet to help you work through the important parts of marketing your Reiki practice.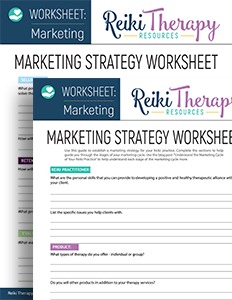 BUILD YOUR REIKI REFERENCE MATERIALS:
Pin this image to your Pinterest board.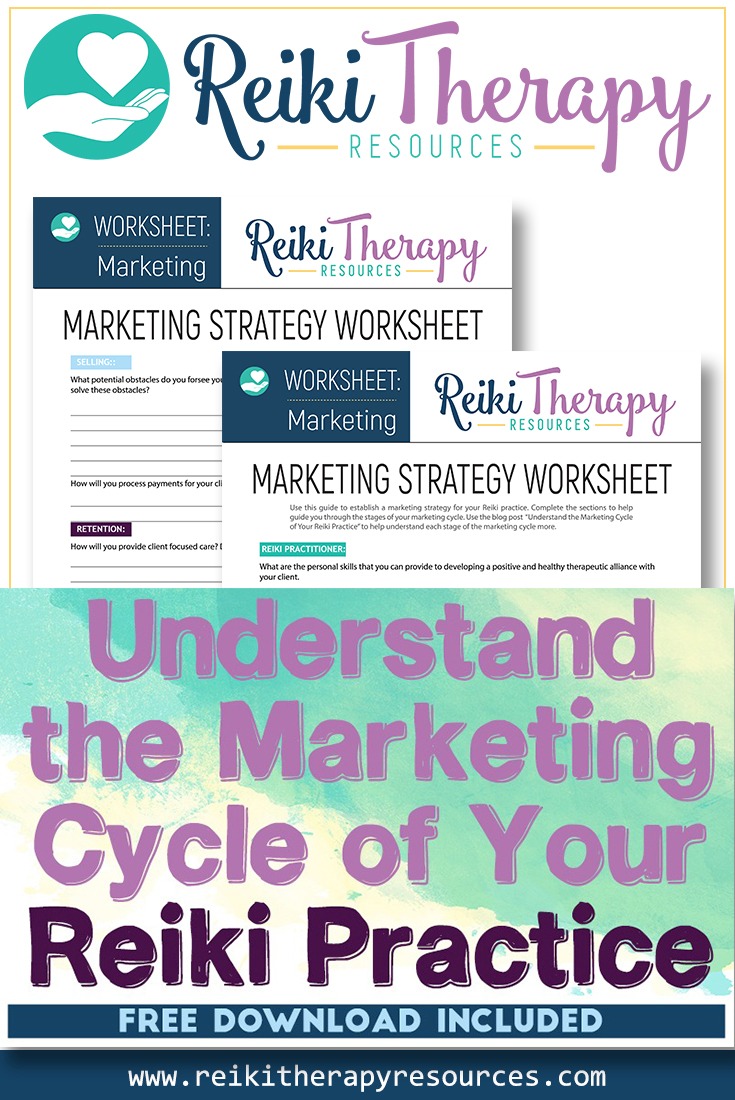 SHARE KNOWLEDGE & PASS IT ON:
If you've enjoyed this post, please share it on Facebook, Twitter, Pinterest. Thank you!