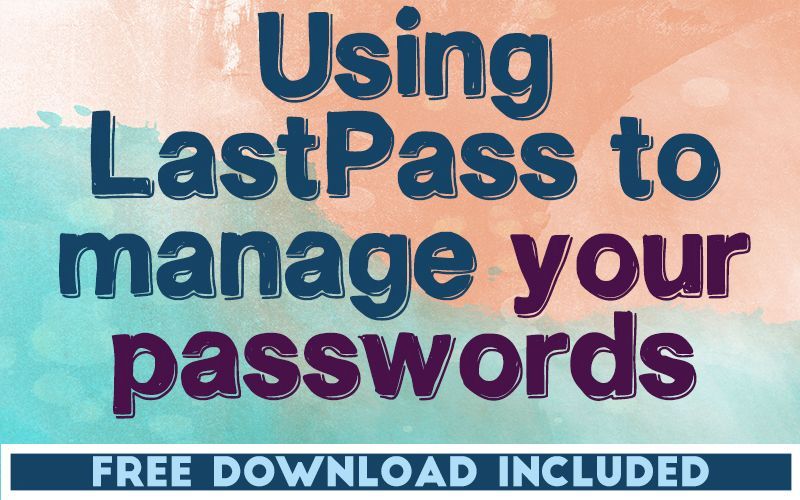 THIS POST INCLUDES:
——————————————–
1. What is a Password Manager
2. Set up LastPass
3. Summary Features of LastPass
4. Free Download Reiki Business Checklist
WHAT IS A PASSWORD MANAGER
As an everyday user of technology we are reliant on websites, software, and networks. Each of these outlets results in generating a significant number of accounts and passwords. Common statistics indicate an average technology user can have an average of up to 200 accounts.
With this number of accounts, it is impractical to record account details using pen and paper. Therefore, using a password manager has become a necessity to help manage our technology details.
You can download LastPass here
From the LastPass website:
Who uses LastPass?
Over 13,000,000 people trust LastPass, including 33,000 businesses. Our award-winning password manager is rated 4.5 stars on the Chrome store with 24,000 reviews.
Are my passwords secure?
Yes. LastPass employs local-only encryption, which means that only you (with your master password) can decrypt and access your data. We've implemented AES-256 bit encryption with PBKDF2 SHA-256 and per-user salted hashes to ensure complete security in the cloud.
COST OF LASTPASS
LastPass is free, however, you can purchase a premium tier. You can also purchase a family plan that supports multiple users. The premium version offers storage features, tech support, and advanced multiple factor authentication. For a family plan, you can also access the dashboard management panel.
LastPass is available on Windows and Mac computers and mobile devices. LastPass is used within the browser that you use. You can also use LastPass across multiple browsers.
Using LastPass requires that you create a master password that controls the program. LastPass does not store this password, so you will need to store this one password securely yourself. LastPass does provide a number of options to reset your master password.
USING LASTPASS
You can add your passwords into LastPass manually. As you browse online and sign up to services and accounts online, LastPass will prompt you to save your username/password from that specific site. You can choose to save your details for that website to your LastPass account or ignore it if you don't wish to save your account details on that account.
LastPass intuitively fills out all required fields to store your data when you create an account on a new website, however, you can also override any information. You can organize your passwords into categories based on your own definitions. Examples of categories include: social media, shopping, education, business, personal, health, school etc.
Once you have recorded your login details from a new website into LastPass, the next time you visit that website an icon appears in the login fields of the website indicating to you that you have a saved username/password for that site.
You can then click on the icon and accept the login details to automatically log you into the website using your saved details from LastPass.
LASTPASS SECURITY
LastPass offers a number of security features to ensure your password system is secure. LastPass can audit your passwords and provide you with a security score to warn you if your passwords security needs to be improved. This applies to passwords that may be duplicates, weak, or haven't been changed for a long period of time.
LastPass stores your encrypted data in the cloud on it's own servers as well as on your devices.
SUMMARY FEATURES OF LASTPASS
Sync passwords across devices
Unlimited passwords
Password generator feature
Share passwords with other LastPass users
Emergency access system for family/friends
Autocompletes data
Categorize your passwords
User friendly dashboard interface
Password auditing
Mobile and desktop options
SIGN UP below to receive your FREE DOWNLOAD.
Once you enter your email address, you will receive access to the Free Business Checklist to help you work through the important parts of setting up your Reiki practice.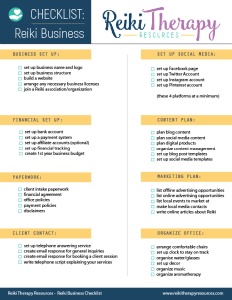 BUILD YOUR REIKI REFERENCE MATERIALS:
Pin this image to your Pinterest board.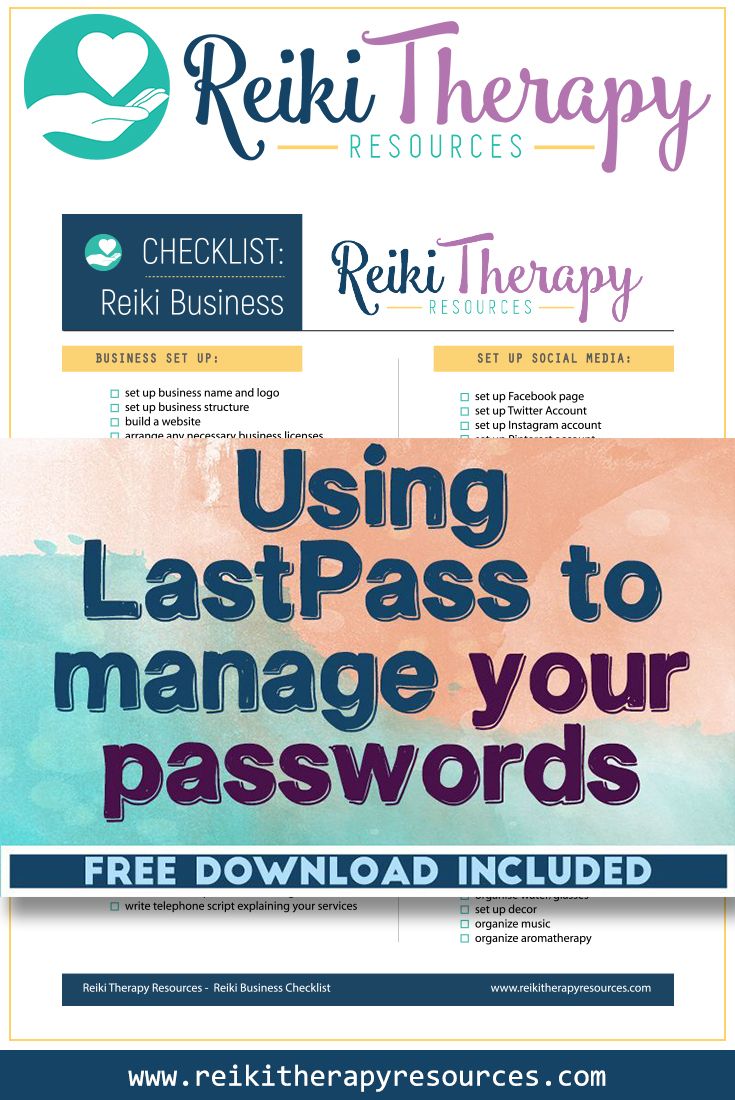 SHARE KNOWLEDGE & PASS IT ON:
If you've enjoyed this post, please share it on Facebook, Twitter, Pinterest. Thank you!