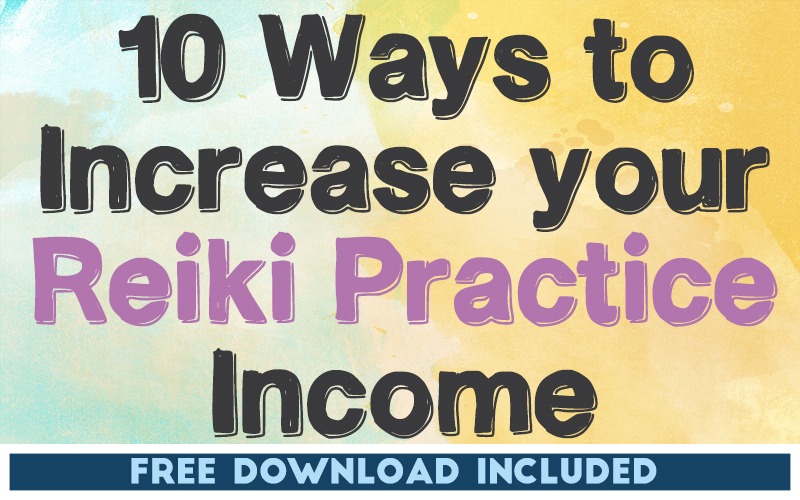 THIS POST INCLUDES:
——————————————–
1. Reiki Therapist income
2. 10 Ways to increase income
3. FREE Download: Summary list of income earning ideas
Most Reiki therapists will earn their main source of income from direct client work for Reiki services. In addition to client work, there are are a variety of ways that a Reiki therapist can increase the income that they earn.
As a Reiki therapist, your income mainly depends on using your time directly with clients. This can be significantly impacted if you were to get sick or found yourself unable to provide face to face time with clients.
In addition to your own personal circumstances, changes can also occur within your location that impact the accessibility of your clients to your Reiki practice. Furthermore, your professional interests may develop over time. You may also want to take some time off work for a period of time. All of these factors can impact your income from your Reiki practice.
Developing additional income sources gives you the flexibility to earn income in addition to your primary client work. Some of these income earning methods may still require your time through the delivery of services, however, you can also introduce more 'passive' earning income strategies.
Passive income doesn't mean you don't need to work to earn your income. Passive income means that you can create one product and then resell it multiple times. The most common example of this is writing a book. You write one book and sell it multiple times.
In this article, we're listing 10 ways that you can increase your income as a Reiki therapist. Some options include using your Reiki knowledge, and other options involve using your overall knowledge of wellness practices that can help the general public. You don't need to implement all of these income earning strategies. Initially, you can focus on one new income stream at a time. This will allow you the time and energy to develop your ideas and delivery methods so that you can earn your new income on a consistent basis. Once you've established a new income earning strategy, you can look to implement additional strategies to build on your income.
As you reflect on the income earning strategies that interest you, it's a good idea to consider what income strategies might complement each other so that you can capitalize on your ideas.
For example, you can write content for an ecourse which you can then turn into an ebook. You might also want to develop a 1 day workshop based on the same content. You can also offer audio files for sale using the same content. You can use your one idea and it's content to develop multiple ways to earn income. This allows you the ability to earn additional income, as well as provide opportunities for your customers to purchase your products and services in a variety of ways. You may have clients who can't attend an in-person workshop but would like to purchase an ebook instead.
10 WAYS TO INCREASE INCOME
1. TEACHER – teaching other Reiki practitioners
2. CONSULTING – providing consulting services to community groups on complementary health and general wellness topics.
3. TRAINING – providing training to community groups and organizations about Reiki or relaxation techniques.
4. E-COURSES – developing e-courses for other Reiki practitioners or clients based on complementary health courses.
5. EBOOKS – writing ebooks for other Reiki practitioners or clients based on complementary health courses.
6. WRITING for online publications – writing for other publications about Reiki and general wellness topics.
7. PUBLIC SPEAKING – speaking at conferences, community events, government departments and corporate events.
8. CONTRACT WORK for other practices – work as a Reiki practitioner in another practice part-time or to cover the absence of a therapist due to maternity leave, carers leave, or sickness etc.
9. REIKI PRODUCTS – sell products that suit the Reiki field or general wellness industry. You can resell or create your own products to sell.
10. AUDIO FILES – audio files can be useful for clients who like to have access to tools at any time. Examples of audio files that can be sold include meditations and relaxation focused topics.
SIGN UP below to receive your FREE DOWNLOAD. Once you enter your email address, you will receive access to the Free Income Summary of 10 Ways to Increase Your Income as a Reiki Therapist.
Use this download as an inspiration guide or checklist to work on developing your income as a Reiki practitioner.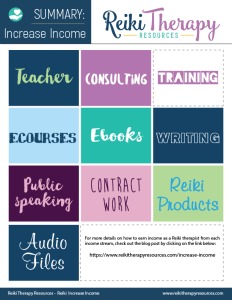 BUILD YOUR REIKI REFERENCE MATERIALS:
Pin this image to your Pinterest board.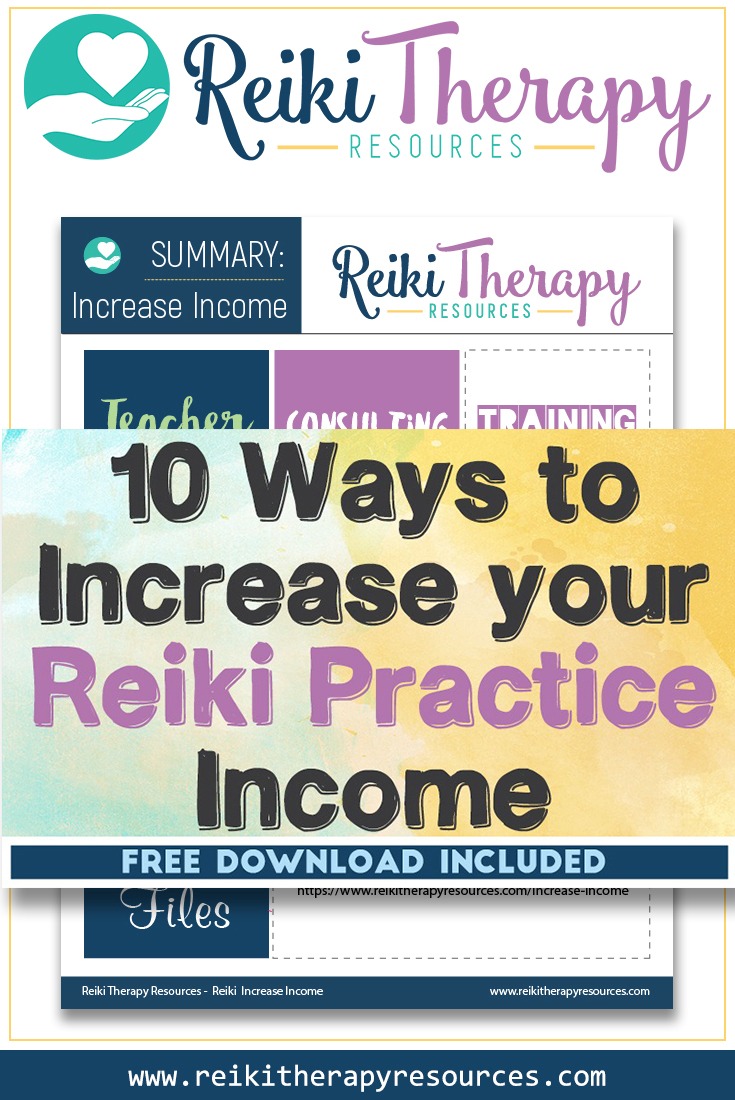 SHARE KNOWLEDGE & PASS IT ON:
If you've enjoyed this post, please share it on Facebook, Twitter, Pinterest. Thank you!