THIS POST INCLUDES:
——————————————–
1. Create an email list
2. Design a free offer
3. Create a free offer
4. Download Free Offer Checklist
The first step to take before creating any free offers for readers on your website is to create an email list first. You can read our blog post How to Build an Email List for your Reiki Practice to understand the foundations of creating your email list. 
When you have created your email list, you should add an email sign-up form to your website so that future readers can submit their email details to your email list and receive the free download that you are offering.
SET UP YOUR EMAIL SUBSCRIPTION BOX
The process of how to set up an email sign-up form on your website will depend on the software platform of your website (eg. WordPress), theme (eg. Elegant Themes, Divi), and the email service provider (eg. Mailchimp) that you use. These platforms will usually provide step-by-step guides on how to set up sign-up forms and collect email addresses through your website. In addition to these help guides, many 3rd party plugins also exist that will easily help you navigate the process of building an email list.
Your email subscription box should be clearly displayed on your website in various places so that whoever reads your website will have an opportunity to sign up to your list at multiple points on your website. It's important to remember that a reader of your website can land on your website in a variety of ways. They may find your website through online searching, or direct or referral links to other pages on your website.
To capture your reader's attention to your email list, you should provide details on alternative pages from the main home page.
When you first create a free offer, you should start with something generic that could be useful for the majority of your readers. Once you have that offer available, you can then gauge by signups whether that offer is effective in gaining new subscribers to your website.
Over time you will want to add additional free downloads to your website that might appeal to other interests that your readers specifically have.
For example, your first download might focus on the general benefits of Reiki for everyone. Then additional free downloads might focus on specific issues that your readers may be experiencing such as pain, anxiety, or stress. 
On our website Reiki Therapy Resources, we offer a free downloadable checklist on the home page (shown below).

In addition to the homepage of our website, each blog post also has alternative free downloads available that are based on the content of that blog post.
Currently, we have approximately 40 different free offers to download. Not all blog posts need a unique download. For example, all of our posts about Chakras contain the same download.
As a Reiki practitioner, you won't need this many downloads to attract your ideal reader and client. A good goal is to create one free offer initially and then work towards providing an overall total of 5-10 free offers to download. This should ensure your appeal to a potential client includes some specific issues to address. Over time you will be able to determine what free download offers are more attractive to your readers based on the number of downloads that each offer receives.
One good way to create additional offers is to expand upon an original idea so that your client can learn more information about the issue that originally interested them.
When designing your free offer, it is important to understand the issues that that your potential clients or readers are looking to resolve. From that understanding, you can design your free offer as a way of solving this problem. As a process of helping your client, your download offer could involve educating your readers about the problem they have and how you can help them with your Reiki services.
As a Reiki practitioner, your free offers should be helpful to our readers and not cause harm or distress. Your free offer should help your reader develop an understanding of their problem but not make promises that can't be fulfilled.
The following tips will help you design your free download offer:
Identify your ideal client is
Identify the common problems that your client has
Decide the format of your free download offer – eg. Pdf document, audio, video, email series, phone call etc
Decide on the type of free download offer – worksheet, template, guidebook, phone call, checklist, webinar, discount offer, audio/video presentation, challenge, etc
Keep your free download offer simple – 1-3 pages of written content is easier to read and take action by your client. A larger 50 page guidebook may take significant effort to undertake and therefore could be ignored.
Create your free offer quickly. You don't want to spend 3 months creating a free item. Aim for 1-2 days to finish your free offer.
Your offer should give your reader confidence in your knowledge
Your free download offer should state clearly that the reader will need to provide their email address which will be added to your email list for future communication. You can also include some details about the type of emails that you send, eg. Monthly newsletter, discount offers, etc.
The free offer can be available in various formats. For example, you may create a checklist to download and make that checklist available as an Excel Spreadsheet, Word Document, Evernote document, or pdf document.
GUIDE TO CREATING YOUR FREE DOWNLOAD OFFER
Below is a list of suggested steps to create your free download offer:
Write a draft of the content you wish to include in your free offer. Aim to keep your document at 1-2 pages in length.
Edit your draft to ensure your offer is easy to understand and includes an action for your reader to take.
Decide what software you will use to create your free offer.
Include details about your business in your free offer so your reader knows who created the document.
Place your written content into the document and include written instructions if required.
Save your document into a format that the majority of readers can download.
Upload your free offer document to your website
Link your free offer document to a subscription sign-up box on your website.
Promote your free offer on your website, social media, and other advertising platforms.
SIGN UP below to receive your FREE DOWNLOAD. Once you enter your email address, you will receive access to the Free Email List Checklist.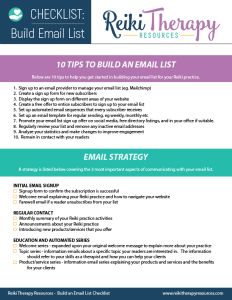 BUILD YOUR REIKI REFERENCE MATERIALS:
Pin this image to your Pinterest board.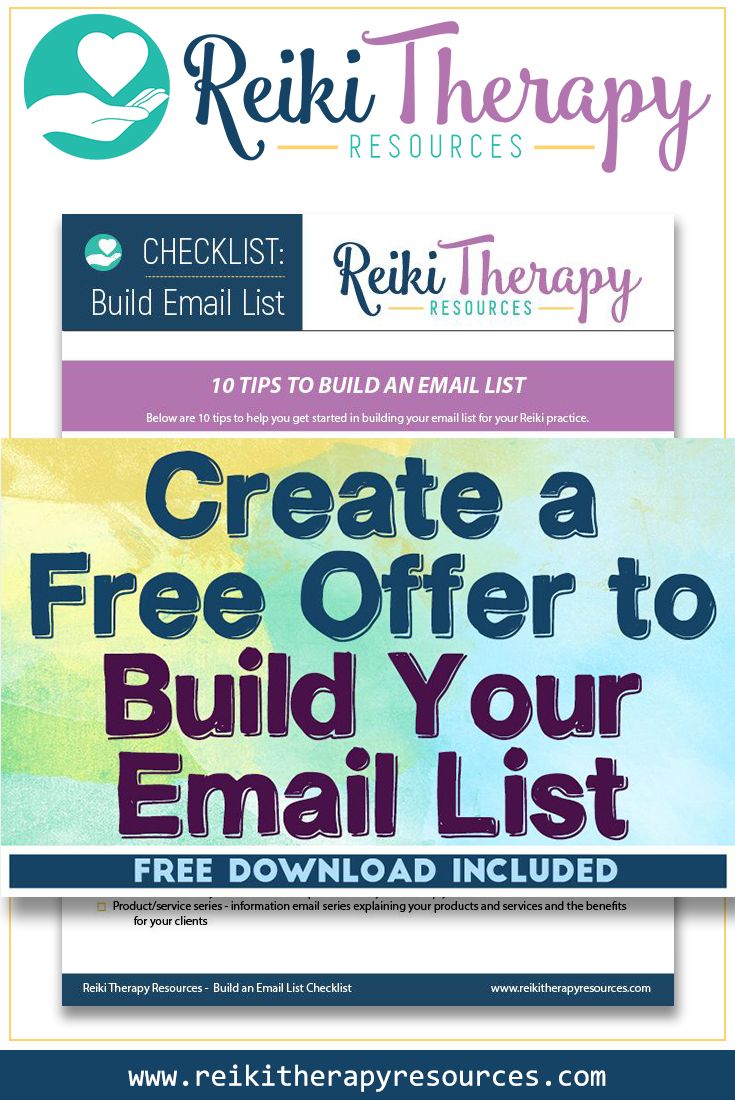 SHARE KNOWLEDGE & PASS IT ON:
If you've enjoyed this post, please share it on Facebook, Twitter, Pinterest. Thank you!