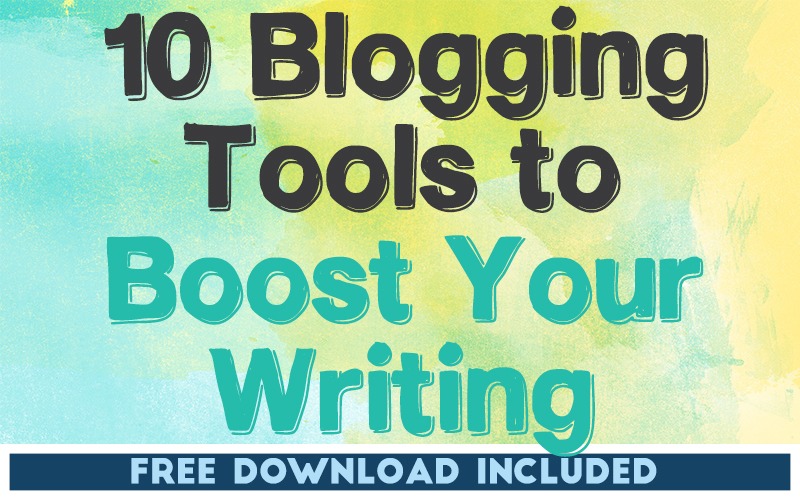 THIS POST INCLUDES:
——————————————–
1. How to increase your writing productivity
2. 10 Tools to Increase Blog Writing Productivity
3. Blogging Package
4. Free Creating a Blog Post Title Guide
HOW TO INCREASE YOUR WRITING PRODUCTIVITY
Writing content on your blog is one of the most useful ways to attract organic traffic to your website. If you are writing about content that your potential reader is looking for, then your website will show up in your readers search results.
To write content for your blog requires two important factors – your person writing effort and the tools you use to create your content. Each of these factors impacts the other. If you have tools that make writing your blog posts an easier process including researching, editing and publishing your content, this will motivate you to write more content.
In addition to using effective tools for writing content, you can also use a few strategies which are listed below:
Schedule your time to write content – choose a time when you will have few distractions and interruptions. Choose a part of the day when you feel most motivated and schedule a time to block off from all other tasks.
Create a positive working environment – before you begin the process of writing, create an environment that inspires you to write. This can include shutting down all other electronic devices, playing uplifting background music, making a favorite drink, and burning essential oils (bergamot and basil are recommended for concentration). Make sure you also clear your area of any clutter so that you can think clearly as you write.
Set your intentions and goals for your writing session – start with an initial smaller goal of writing for 30 minutes. Plan the content you will be writing in that 30 minute session so that you remain focused. Productivity is improved by being specific about your plan. For example, write 200 words on the benefits of Reiki. Use tools like Trello to map out your writing plan. Write your intentions down so that you can also experience the satisfaction of marking your task as completed. This will develop further inspiration to work towards your goals.
Take regular breaks from writing – after your first writing session make sure that you take a break to recharge. Use this break to do light stretching. Remember to also drink water as this will help boost your energy levels. If you didn't achieve as much as you wanted in your first writing session, use the time in your break to meditate or reflect on the obstacles that you faced. Make a new intention to overcome any feelings of disappointment and remember that practice makes progress. It's also important to remember that first draft writing is meant to be terrible and that the editing process is where you can spend time on tidying up your spelling, grammar, and ideas. Initially, your writing goal is to simply get started!
Create writing templates – if you create similar content for your blog then it can be useful to create templates to eliminate repetitive tasks. In our blogging package in the store, we include a list of the 7 most common types of blog posts that suit wellness blogs. Also included is a general outline of the content to include in each post type. Also included in the blogging package is a helpful formula for creating an effective title to use for your blog post. As part of the blogging package, you will receive a helpful blog post template that is based on an effective writing methodology. Included as well is a blog post checklist to ensure you have created written blog content that will increase your blog visibility to your potential readers.
Batch your blog writing content – the batching concept of creating content helps introduce a productive work flow to creating content. One example of batching content may be to create all your blog post titles in one work session. In another work session you may choose to outline the content of all of your blog posts for the month ahead. In a thrid work session you might focus on writing content for your blog post. In each of these sessions your brain is focused on one single task type and can work more efficiently when using this focused approach.
10 TOOLS TO INCREASE BLOG WRITING PRODUCTIVITY
Evernote – for writing and saving content from online – allows writing as well as storage and search for future articles
Scrivener – for writing
Timer – staying on track with your tasks time limits
Spotify – Listen to Focus and Productivity Playlists
Smart Phone: iPhone or Android. Use any app that utilises the keyboard and use the microphone icon on the keyboard to record voice. Record your thoughts and email yourself the recording to then create a blog post.
Stay Focusd (browser app)  PREVIOUS BLOG POST: Productivity Tools: Stay Focusd vs Rescue Time 
If you need additional help organising your blogging content plan, we offer a BLOGGING PACKAGE in the store. The package is available in the following formats:
After working through this package you will:
have a better understanding of the approach you should take when planning your blogging content
construct your own blogging content planner for the year using our planner templates
Create a catchy blog title for your blog post that will help your blog post gain traction on internet search engines
use our step by step blog post template to create your blog content
use our blog post checklist to review your blog post before posting it on your website
The contents of this package include the following sections:
BLOG ADMIN
Blog Post Ideas – plan out your blog post ideas individually or by theme. Use this section to brainstorm all of your blog content ideas.
Content planner – use the planners we've provided for minimal blog posting or busy blog posting. A blank planner is also provided so that you can create your own personalised content planner.
Writing Tips – use our writing tips to boost your productivity by setting up a ritual, setting goals and staying motivated to write.
BLOG WRITING
Types of blog posts – included is a list of the 7 common types of blog posts that suit therapist blogs. Included is a general outline of the content of each post type.
Creating your blog post title – use our formula for creating the most effective title for your blog post. Included is a link to an excellent headline analyzer tool to help you improve your blog title.
Writing methodology – includes instructions for the most important parts of content creation:

Research
Outline
Writing
Editing
Included is a step by step breakdown with actions and timeframes to help you write a small and larger blog post.
Blog post template – use this blog post template that is based on the step by step writing methodology described above.
Blog post checklist – use this blog post checklist to ensure you have created content that will boost your blog visibility on the internet.
You can read more about this package in our store HERE.
SIGN UP below to receive your FREE DOWNLOAD. Once you enter your email address, you will receive access to download the Creating a Blog Post Title Summary Guide.
You can also access a summary of the tools on this Evernote document. You can save this note to your own Evernote. You can view the Evernote document even if you do not use Evernote. Evernote basic accounts are FREE.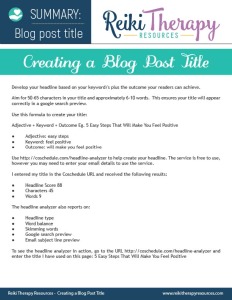 BUILD YOUR REIKI REFERENCE MATERIALS:
Pin this image to your Pinterest board.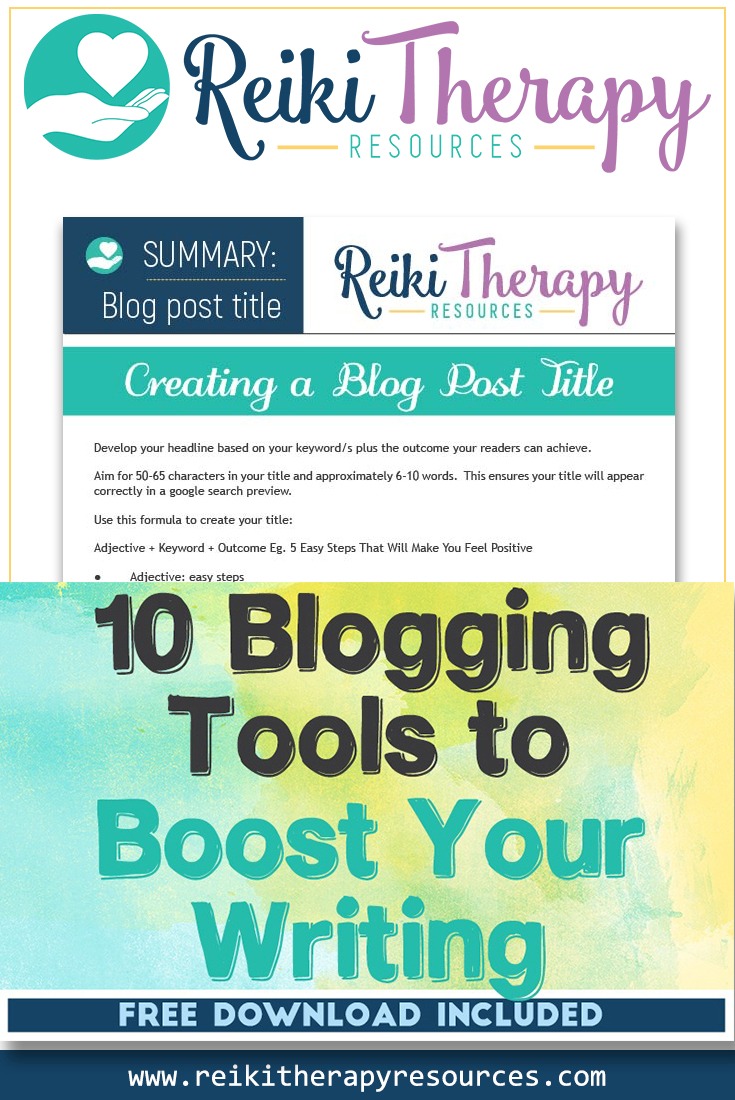 SHARE KNOWLEDGE & PASS IT ON:
If you've enjoyed this post, please share it on Facebook, Twitter, Pinterest. Thank you!