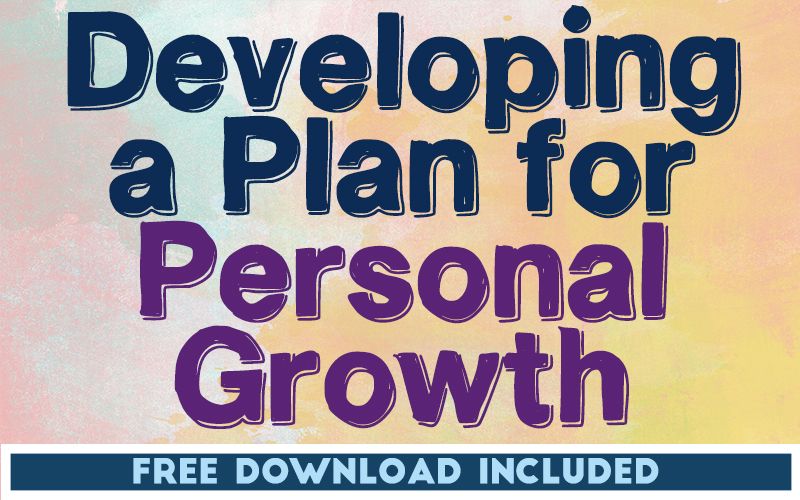 THIS POST INCLUDES:
——————————————–
1. What is a personal growth plan?
2. Identify your personal growth goals
3. Create your personal growth plan
4. Free Download Personal Growth Plan Template
WHAT IS A PERSONAL GROWTH PLAN?
A personal growth plan is a specifically designed plan for you that aims to help you develop your personal goals and add to the overall growth of your skills, knowledge, and values.
Your plan should focus on you which includes your personality, the obstacles you face, the goals you want to achieve, and the values you attribute to how you want to grow as a person.
Your plan should contain actionable items that help you make progress on your goals. There is limited value to a plan that outlines your goals but does not provide you with a map of how to achieve what you want.
A personal growth plan is not essential to your development and achievement goals as many of us go through life already setting and achieving goals. However, many of us also determine in certain parts of our lives that we haven't achieved as much as we wanted to with our time. We may realize that we've become distracted by lesser important goals, and have not always put our goals at the center of our attention.
With this in mind, a personal growth plan can help set a definite pathway of how we can limit distractions, and put our goals at the forefront of our decision making.
The chance of your personal growth plan being successful will depend on:
The realistic goals that you set
The regular attention that you give to your plan
Assessing your plan regularly to make changes where necessary
A personal growth plan can be as specific, broad, or detailed orientated as you like. For example, you can be very specific about what you do each Tuesday night that works towards your goals. Alternatively, you can set broader time frames that might not focus on every Tuesday but will result in you achieving the same goals by the end of a specific month.
Creating a personal growth plan has an enormous benefit for achieving short term goals, however, it also helps us explore our perceptions of our abilities as well as our capabilities. By committing to pursuing personal growth, we can test the limiting beliefs we may hold about ourselves and our capability to try new things.
By undertaking this challenge, we can build confidence and explore more aspects of this life that we have been given.
IDENTIFY YOUR PERSONAL GROWTH GOALS
Your personal growth goals will depend on the final outcomes that you want to achieve. For example, if your final outcome is to be healthier, then you can break this overall outcome down into goals to work towards that are more specific.
Your end result may be improved health.
Your goal to achieve this end result may be to improve your fitness which impacts your health.
This can turn into a smaller goal, or goals, which may be walking 20 mins 4 days a week and lifting weights 2 days a week.
As much as the goal of improving fitness will impact our health, it will also provide additional benefits such as improved sleep, increased socializing opportunities, and increased cognitive performance.
Some examples of personal growth goals include:
Overcome a fear
Improve communication within a specific relationship or generally
Develop self-compassion
Reduce procrastination
Improve sleep
Improve conflict resolution skills
Move on from past hurts and difficulties
Develop resilience
Manage stress
The main goals we can set can fall within the following areas of our life:
Health
Wealth
Mental wellbeing
Relationships
Career/work/school
Social networking
Knowledge learning and skill development
These are the most common areas in our life that we engage within. Most of our personal growth areas can fall within any of the areas.
The most simplified approach to identifying your goals includes:
Identify your end result
Identify the actions you need to undertake to achieve this end result
Identify the skills and resources you need to implement this action plan
Identify the action plan to gain the necessary skills and resources for your plan
Implement your action plan once you have gathered the necessary skills and resources
Identifying your personal growth goals can often stem from dissatisfaction with specific areas in your life. We may feel that some areas can be improved and this can inspire an introspective inventory of all aspects of our life.
Alternatively, even if you are satisfied with the above areas in your life, you can still identify some goals that you may like to put in place now for your future self to benefit from.
CREATE YOUR PERSONAL GROWTH PLAN
When creating your personal growth plan, there is no set pathway that you can achieve the growth that you seek. Your plan should be specific to you, your personality, your time, and your intellectual, physical, and financial resources. Everyone must seek their own path to ultimate fulfillment.
With that said, we've created a generalized version of a personal growth plan that you can use as a framework to build your plan:
Identify what your personal growth goals are based on your desired outcomes
Identify the resources you need
Identify the obstacles you need to overcome
Identify the self-sabotage behaviors you may engage in
Implement a plan for support – ask for help
Document and review your goals, milestones, and achievements along the way
Revise your goals where appropriate
Celebrate and reward yourself for your hard work
We've included a template to use in developing your personal growth plan. Use this template or modify it to suit your pathway to achieving personal growth.
SIGN UP below to receive your FREE DOWNLOAD. Once you enter your email address, you will receive access to the Free Personal Growth Plan Template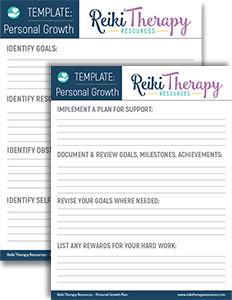 BUILD YOUR REIKI REFERENCE MATERIALS:
Pin this image to your Pinterest board.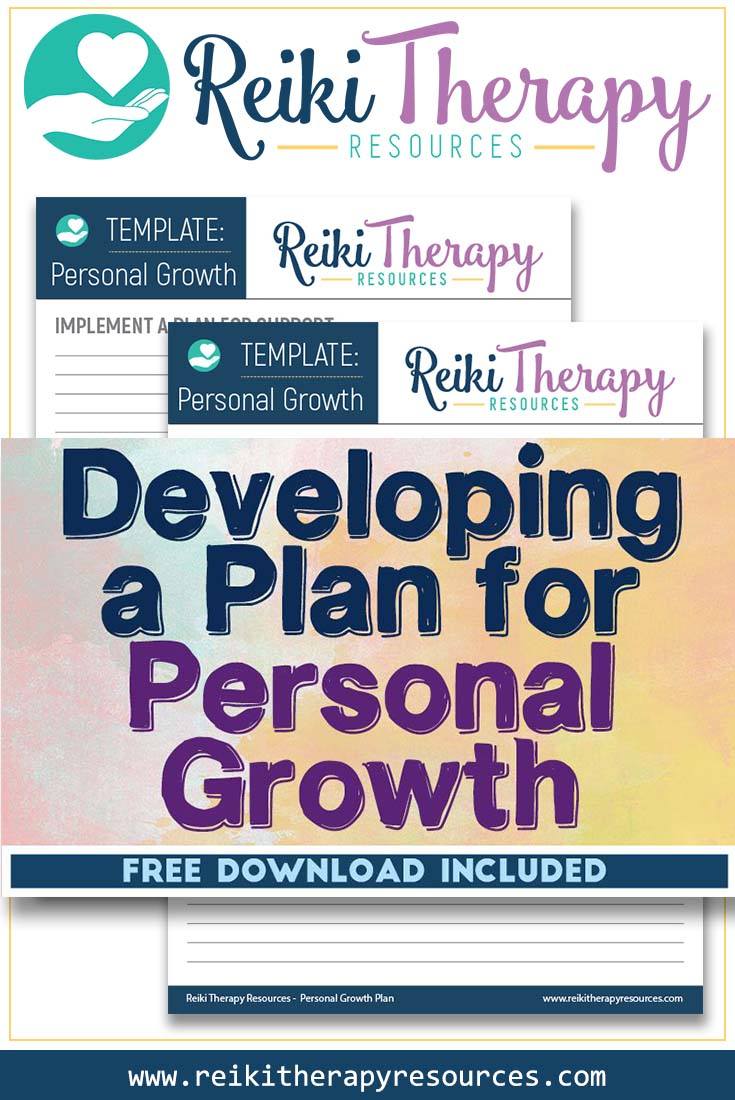 SHARE KNOWLEDGE & PASS IT ON:
If you've enjoyed this post, please share it on Facebook, Twitter, Pinterest. Thank you!